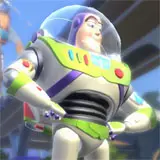 I have journeyed across multiple states to Disneyland a few times in my lifetime, and each visit was akin to stepping into another world where everything outside the gates ceased to exist. It really is like no place on earth, which is why the ingenious idea to create a virtual version for kids and adults alike to explore and have fun in with Kinect Disneyland Adventures on Xbox 360 should be met with a tip of the hat and a round of applause.
Somewhere between concept and execution, the idea behind Kinect Disneyland Adventures got caught up in the technology that powers it. When viewed as strictly a Disney product by those who have been to the park, the game's landscapes, attention to detail right down to vendor placement, familiar sounds like the It's a Small World clock, and body-controlled interaction with famous Disney characters is as much a testament to the success of the Disney brand as it is to the feeling of déjà vu while taking it all in – again.
This great premise behind Kinect Disneyland Adventures is hindered not by some choppy graphics rendering that exhibits screen tear from time to time, but by its complete reliance on the Kinect sensor to play. Simple tasks with a traditional controller such as moving a character around in a three-dimensional space or selecting an item from a menu wheel should not be so complex that adults struggle with it, much less young children to whom the game will most appeal. For every easy high-five with Mickey, there's several seconds spent fighting the sensor by pointing your arm in the direction you want them to walk, only to see them move too slowly or start veering off to the side.
If only the amazingly responsive voice controls that can be used in most, but not all of the menus could be utilized to walk around the park as well. There is an option to jump to each of the park's areas directly, but that takes the fun out of exploring as if you were really there.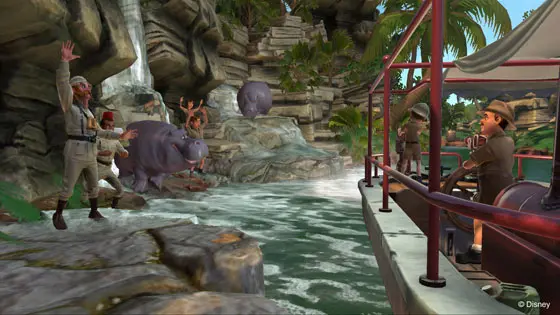 In the game's campaign, one or two players take control of a customizable Avatar and meet the famous Disney characters who, in turn, assign various tasks and objectives to complete. These tasks can range from finding objects hidden in the park or within one of the ride mini-games, obtaining autographs or taking pictures of characters, or taking an item from one character to another.
At the real Disneyland in California there are long lines for rides, characters, the restroom; you name it. Here, though there are crowds of NPCs roaming the park with smiles on their faces, they are designed to automatically step out of the way as you run into them. The Disney characters may be surrounded by fans, but those fans never interact with them. You can always go right up and meet, greet and ride sans wait. If only the real park had this option.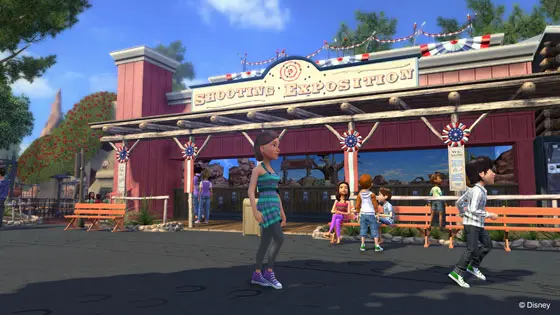 When not battling the Kinect sensor to get around the park, kids will find fun in engaging the park tasks to watch cut-scenes with the characters. My kids' eyes lit up when each came to life, dancing with the Avatar and saying silly things. Many of the talented folks that bring these characters to life on television, etc., have lent their voices to the game. Mickey Mouse sounds just like Mickey Mouse, and Winnie the Pooh's whining about needing honey is spot on.
Adults will turn their attention to Achievement collecting, and there are many to go after that will have players seeking out characters, rides, and collecting money to buy autograph books, pins and more. The Achievements, and ability to quickly build cash for use in one of the eight stores in the game, are simple enough that an adult can easily teach their kids about Achievement unlocking by playing the game with them. Kids will want to just meet the characters, but the parent can tell them that getting autographs from these five characters grouped together, for example the Villains groups, will unlock a special Achievement. Autograph collecting is great fun for parents or kids to partake in, but especially fun for parents and their kids to enjoy together.
Kinect wrecks havoc on navigating the park, but it does earn its stripes once entering one of the many game attractions within the park. Save for third-party attractions like Star Tours, which is not in the game as a property of LucasFilm, Kinect Disneyland Adventures turns the main ride attractions into wonderfully and appropriately line-art rendered mini-games that can be played for money to spend in the stores. Just about every use of Kinect you can imagine has been integrated within the many games ranging from Space Mountain to Peter Pan, to Haunted Mansion and even being a conductor to shoot off fireworks. Get ready to cut loose as dancing comes into play, too, in more attraction than one.
If you can stomach the arm pointing required to walk around the park and multiple tries it takes to select items like the camera off the wheel menu, Kinect Disneyland Adventures offers the first legitimate glimpse into visiting and exploring the entire park without actually going to the park. One could argue it's a giant advertisement for Disney to spur ticket sales, but there's a lot of thought put behind how the game plays within the main ride attractions, and the experience of exploration and discovery it offers for kids and adults to share together. Eat your heart out, Universal Studios.
– Dan Bradley
Shop for Kinect Disneyland Adventures for a discounted price at Amazon.com.