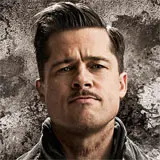 Ever since the 1980's, when America began to come to grips with the Vietnam War, movies arriving on the scene that dealt with the theater of combat could be guaranteed of one thing: watching it would be anyone's idea of a fun night at the flicks. Sure, there are the Rambo and Missing In Action films as well as movies such as Uncommon Valor, but even those adventure films were a far cry from the likes of Von Ryan's Express, The Train, The Dirty Dozen or Where Eagles Dare.
As we went through the 1990's and the current decade, the Rambos and Braddock films faded away, replaced by the stark, depressing realism of Platoon, Saving Private Ryan and the miniseries Band of Brothers. Having any sense of kick ass fun in wartime seemed to be a thing of the past. That is, until now. Achtung, babies! Quentin Tarantino and his Inglourious Basterds have arrived.
Set "Once upon a time in Nazi-occupied France, 1941," Basterds tells two stories which are broken up into familiar Tarantino chapters. The first story revolves around a young Jewish woman named Shosanna Dreyfus (Mélanie Laurent). Shosanna witnesses the execution of her family at the hand of a sadistic Nazi Colonel named Hans Landa (Christoph Waltz), a.k.a. "The Jew Hunter." The young woman narrowly escapes execution and flees to Paris where she forges a new identity as becomes the owner and operator of a cinema over the course of the next four years.
In story two, Lieutenant Aldo Raine (Brad Pitt) has organized a group of Jewish soldiers to engage in targeted acts of retribution against the Nazis, collecting their scalps as a prize (each solider owes Raine 100 scalps). Dubbed by the fascists as "The Basterds," Raine's squad is chosen for a rather important, and possibly suicidal, mission. With the help of German actress Bridget Von Hammersmark (Diane Kruger), the Basterds are tasked with taking down several prominent leaders of The Third Reich, including Landa, who are in Paris to attend the premiere of a Nazi propaganda film. As fate would have it, the Basterds' mission and Shosanna's opportunity for revenge converge under a cinema marquee.
After taking two films to kill Bill and one to present the most long-winded Grindhouse film in cinematic history (the mildly enjoyable Death Proof), Tarantino has finally had the chance to make his long-gestating action war epic. While a war-themed picture set in 1940s Europe may appear to be a departure for QT, Inglourious Basterds still very much feels like one of the California crime capers that made Tarantino a modern-day film geek icon.
Like Kill Bill, Pulp Fiction and Reservoir Dogs, the screenplay for Basterds goes in audacious, unexpected and wholly satisfying directions (wartime revenge has rarely had it so well). Through long passages of involving, often darkly funny dialogue, Tarantino slowly but surely ratchets up the tension in several key sequences, ones that culminate in sudden, graphic and often cathartic bursts of violence. He also peppers the film with many a film homage, such as The Good, Bad and the Ugly-esque opening, and an eclectic mix of tunes (imagine my surprise when the theme from… 1982's Cat People… popped up) from other films as well as music of the time era that benefit the film greatly.
Another Tarantino trademark is his ability to assemble a cast that knows how to properly convey his colorful characters and dialogue. Pitt is enjoyably over-the-top as the leader of the Basterds, while Krueger is suitably sexy as the Aryan actress helping the Allies. Mike Myers (yes, that Mike Myers) materializes in a rather odd cameo at the film's mid-point, while Hostel director Eli Roth turns in a surprisingly good turn as "The Bear Jew;" a Basterd that has quite a way with a baseball bat.
But it is Laurent and Waltz, the latter in an award-worthy performance that are the real onscreen standouts. Laurent nicely conveys Shosanna's long-simmering quest for revenge, while Waltz gives us a villain that is charming one minute and deathly sadistic the next. Colonel Landa is a wonderfully-realized character, one of Tarantino's best, and Waltz's wonderful performance more than solidifies that.
In a summer movie season where most filmmakers felt content phoning in their work, it is a relief to have a new Quentin Tarantino movie out. A bloody revenge fantasy whose sole mission is to entertain for 153 minutes, Inglourious Basterds is a gift to movie fans from someone who is an even bigger fan of the medium. This is easily one of the more enjoyable films to be released so far this year.
– Shawn Fitzgerald