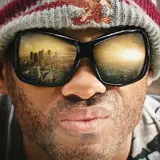 Will Smith has brought a fairly one-dimensional approach to his annual July 4th blockbuster roles. He's been charming, funny, offered a hint of arrogance, and either saved the day or heavily influenced a predictable act of heroism.
With Hancock, Big Willie has leapt far beyond his comfort zone portraying a character unlike any he's attempted before. Hancock is an edgy boozed-up loser straddled with the burden of superhuman powers. He's become so isolated and detested by society that his demeanor and borderline R-rated interaction with people, kids included, would make Bad Santa cock a crooked grin. Smith has to actually "act" to pull off depicting this character's emotional pain and pent up anger; a stretch compared to his usual blockbuster fare, but one he tackles head-on and pulls off convincingly.
The cure to public perception is positive public relations which is exactly what squeaky clean Ray, played by Jason Bateman, offers Hancock after the bumbling superhero saves him in a most un-heroic manner. Ray spends the first half of the film working with Hancock to improve his image including a voluntary stay in prison. Ray may be a PR failure during his day job, but Hancock's arrival gives him the chance to prove he's got the chops to make a difference.
Bateman's interactions with non-verbal communicative Smith are some of Hancock's finest moments. Despite one unlawful act after another, including a hilarious confrontation in prison resulting in an unapologetic Hancock shoving one man's head up another man's rear-end, Ray remains calm in expressing his discontent with Hancock's actions all while plotting a positive step forward to help control the damage in the public's eye. Has a scene with a silent Will Smith ever been laugh out loud funny before?
A small subplot runs through the first hour of Hancock setting up a most unwelcome dramatic change in direction. Hancock's past is a mystery to the character which he brings up on numerous occasions. Each time it is mentioned, spastic director Peter Berg zooms the camera in on Ray's wife Mary, played by Charlize Theron, who flashes a look of concern across her face. Clearly she's a clue to Hancock's real identity and wants Hancock to stay away. We get it after their first meeting when Berg flies the camera 360 degrees around an obviously concerned Mary as Hancock exits. There's no need to beat it over our heads.
It is only a matter of time, approximately one hour in, before Mary exposes her secret and sends an all-new plot spiraling into a soap opera abyss. With Hancock's public image repaired, the script runs out of steam and force-feeds a convoluted solution to Hancock's past tied to Ray's wife. It's bad enough the odds for this scenario to even exist are well over one in a billion. Salt hits the wound when the edgy comedy that anchored the first half is replaced by Berg's jittery camera moves regardless of the scene, megalopolis-sized plot holes, unexplained wardrobe and make-up changes, one laughable coincidence after the next, and a weak, nondescript petty thief villain who magically reappears in the final minutes for an unnecessary Last Action Hero meets The Kingdom showdown.
Lost in the second half shuffling of random ideas is a thought out exploration of Hancock's origins. This is one of the most intriguing ideas presented and it's glossed over like a "blink and you missed it" cameo in favor of what amounts to an overblown domestic dispute gone awry.
Hancock's darker tone, language that somehow landed a PG-13 from the MPAA and the script's split personality will test July 4th audiences accustomed to Big Willie flashing a grin and joking his way through a typical summer blockbuster. Setting the misdirected second half aside, the character of Hancock and is an enjoyable reformed drunken mess Will Smith deserves to revisit with a tighter script. Judging by the ovation when the lights went up, he may just get that chance.
– Dan Bradley