'WWE 2K18' Review: Build Your WWE Universe The Way You Want It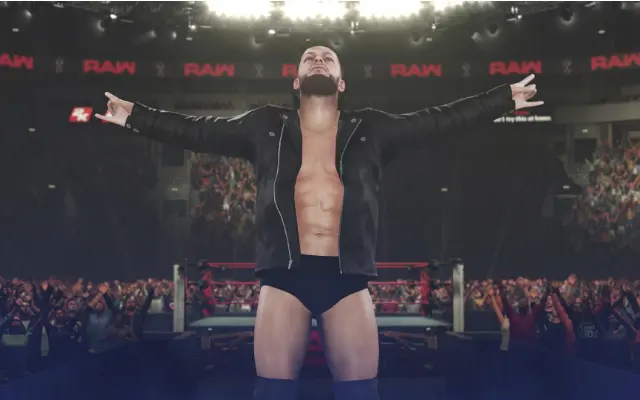 Sports fans salivate for this time of year, and rightfully so, with the NFL, NBA and NHL seasons all starting within a few weeks of each other along with the release of their video game counterparts. And while WWE's "wrestling" isn't necessarily a sport, it's video game adaptation, WWE 2K18, makes as big of an impact as those of actual sports. With its customization, interactivity and deep MyCareer mode, this years edition keeps pace with any sport-oriented game.
Like its NBA counterpart, WWE 2K18 puts an emphasis on its single player MyCareer mode. While this has been a staple of WWE 2K for a while now, this years edition has a little extra oomph with the ability to roam free around a backstage area akin to NBA 2K18's Neighborhood. While walking around, you'll find other Superstars to chat with and receive mission-like objectives to complete within your matches. There's also personnel backstage that you can interact with, like the seamstress who allows you to alter your wardrobe and the show producer who you talk to to start your matches. The matches you receive and the path your player takes is dependent on the decisions you make in and out of the ring. You can be a company man and do what the big boss tells you, or you can be a fan favorite and blaze your own path through the WWE universe.
Along with the revamped MyCareer mode, WWE 2K18 also introduces Road to Glory, a new mode that lets you take your MyCareer character online to face those of other players around the globe in matches that correlate with events that are currently taking place in the WWE universe. If you do well enough, you could earn yourself a match in the next pay-per-view. Unfortunately, it's not an easy thing to get into as only so many players can join the fray. If you want to try this mode, make sure to sign up early for the next pay-per-view to get your chance to compete.
The popular Universe mode also returns in WWE 2K18, with even more ways to customize your company. Rivalries can come about in more organic ways this year with a new feature that suggests rivalries between Superstars who consistently match up together in the ring. The number of options for customization is greater than ever this year, with tons of new clothing and accessories, new entrance options and Universe mode lets you customize absolutely everything about your company.
But with all of the improved customization and the new features included, WWE 2K18 still feels like the same game with a fresh coat of paint. The backstage area is a great concept, but your options are limited. Not every Superstar you talk to is going to have something worthwhile to say and will often repeat the same lines of dialogue over and over. The lack of voice acting in the backstage area only makes it feel more superfluous. And console players will grow to loathe the time it takes to load the backstage area just so they can start a new match and wait for another loading screen. Road to Glory is another feature that seems great in concept, but it becomes tedious when you have to wait 30 minutes for an opponent.
While the new features do seem a bit unnecessary and can easily stress you out, WWE 2K18 is still a fantastic entry in 2K's long-running sports entertainment franchise. The matches are challenging, but fun and the graphics look better than ever. You can play out the WWE universe the way you want it and try to get your MyCareer character a belt or two. What more can you ask for?
WWE 2K18 is out now for Xbox One, PlayStation 4, Nintendo Switch and PC. This review is based off of a PS4 copy of the game.
TheHDRoom may be paid a small commission for any services or products ordered through select links on this page.