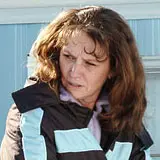 When a film like Frozen River pulls in less than $2.5 million at the box office yet manages to win the Grand Jury Prize at Sundance and secure multiple Academy Award nominations including Best Actress against "heavy hitter" competition, my eyebrows perk up and curiosity is cleared for take-off. Any highly regarded indie flick shot in high definition is a diamond in the rough Blu-ray can only benefit from having in its expanding library.
Life along the St. Lawrence River (a.k.a. Frozen River) in Massena, New York is a far cry from the hustle and bustle of New York City. The small town is defined by its mostly blue collar population where housing is defined by single or double-wide rather than uptown or downtown. Winters are especially harsh, freezing the river straddling the United States and Canada and subsequently turning the already flat and mostly undefined landscape into a winter wasteland peppered by sparse pockets of struggling humanity.
Money is as rare a commodity in Massena as parking is in the Big Apple. No one understands this clearer than Ray (Oscar nominated Melissa Leo); a hardworking mother of two whose husband has fled with what little savings the family had accumulated. Forced to request additional hours at work (and be denied) to ensure her kids have food on the table much less upholding a promise to purchase a new double-wide trailer, Ray is running out of options to ensure the survival of her family.
Less than three minutes of runtime are required to understand and comply with the shower of critical praise continuously raining down upon Melissa Leo. The sorrow, grit and determination shines through her mannerisms and expressions before a single word of dialogue is spoken. Her emotional investment into a simple woman constantly battling to survive with unrelenting drive when all the chips are down is second to none. I'll be the first to stand up and applaud if a shiny Oscar ends up in her deserving hands.
Adjacent to Massena on the St. Lawrence River is a mostly desolate Mohawk Indian reservation. It is here where Ray meets apathetic Indian Lila Littlejohn (Misty Upham) when in search for her runaway husband's deserted automobile. Lila, whose only child was snatched by the child's mother-in-law immediately after birth, spots an opportunity in "white-skinned" Ray and uses her and her car to traverse the "Frozen River" to Canada so Ray can sell the car and make some money. As it turns out, Lila is actually a part-time human smuggler and Ray is forced into smuggling illegal Asian immigrants in her trunk back to Massena for a hefty four-figure sum.
First-time writer-director Courtney Hunt walks a fine line between heroism and melodrama as Ray and Lila embark on a series of smuggling runs with a common denominator: both women are willing to do whatever it takes, even blatantly breaking the law and risking jail time, for the wellbeing of not only their kids but an illegal immigrant's child after a colossal mistake during a late night run. With each successive run and the growing watchful eye of the police towards a bittersweet yet perfectly crafted finale, Frozen River never strays too far from its simplistic and all-too-real story of survival as told through the lives of these two dissimilar yet bonded women.
There isn't much color in Sony's 1.78:1 1080p video transfer by design given the region and wintry time of year. By shooting with high definition cameras, Hunt has been able to bring out every wrinkle in Ray's battered down face, every chunk of chipped ice on the expansive river and other gritty details that help define the bleak atmosphere. With many of the "runs" shot at night, it is important for black levels and shadows to hold strong and they certainly do. This is an excellent transfer that purposely retains the director and cinematographer's aesthetic intentions.
Sony's standard 5.1 Dolby TrueHD audio treatment for Frozen River is strong and audible without imbalance or muffled dialogue. Rears crackle to life on occasion such as when Ray's car scurries across the river and when the score kicks in. There are no complaints to issue which is precisely what this genre of film that doesn't benefit from explosions and deep bass demands for success.
A lone bonus feature is an Audio Commentary with director Courtney Hunt and producer Heather Rae. Neither comes across as especially comfortable with being in front of the microphone by trading insightful tidbits into working on a shoestring budget with long stretches of absolute silence. Not included and a big oversight is the original short film Frozen River Hunt played at the New York Film Festival. You can bet if Frozen River wins an Oscar that Sony will go for a double-dip in the future and the door will open up for more extensive extras.
Frozen River with all its accolades and hype successfully piqued by curiosity and delivered a heartfelt driven story and masterful performance by its lead without the benefit of working against a male lead. The Blu-ray presentation is top notch and though a lone bonus feature offers little additional value, this is one case where the feature film is more than capable of speaking entirely for itself.
– Dan Bradley