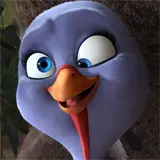 Free Birds takes a clever concept of talking turkeys trying to thwart Thanksgiving and injects it with cookie cutter characterizations and unnecessarily complicated time paradoxes. The final spread is a dish best served warm; cute at times, but can't elevate its head to the standard of modern animation's heavy hitters.
The lead bird, Reggie (Owen Wilson), is turkey culture's societal outcast, born with the gift of intelligence and self-awareness. He knows better to stuff his face while his much plumper brethren, quick to sacrifice Reggie to the "wolves" when danger comes knocking, eat their way to a one-way ticket onto a Thanksgiving Day dinner table.
Reggie is the prototypical unlikely, ill-equipped and downright clumsy hero who is unwillingly thrown into adventure when the President of the United States selects him to be the annual "Pardoned Turkey." Reggie gets to be the President's daughter's pampered pet, complete with unlimited pizza deliveries and TV access. That bird nirvana doesn't last long when Jake (Woody Harrelson), a stereotypical knucklehead from the Turkey Freedom Front, shows up to recruit Reggie to save turkey kind by rewriting history.
Jake and Reggie make for an admirable pair as they fumble about a secret underground government facility in search of S.T.E.V.E., a time travel machine voiced by George Takei, who similarly lent his voice to an electronic machine in the Skylanders Giants video game. Reggie and Steve's best moments come as they manage to infiltrate S.T.E.V.E. and ride him/it back in time to just before the very first Thanksgiving.
The trip to 1621 is not only a step back in time but a step back in creativity. It takes mere moments for Reggie to stumble into Jenny (Amy Poehler), an immediate object of his affection, which could – and does – only mean that Jenny's dad, Wild Turkey Chief Broadbeak (Keith David), would be Reggie's roadblock in executing the plan to replace Thanksgiving turkeys with pizza. At least Avatar now has some company in terms of familiar story retelling.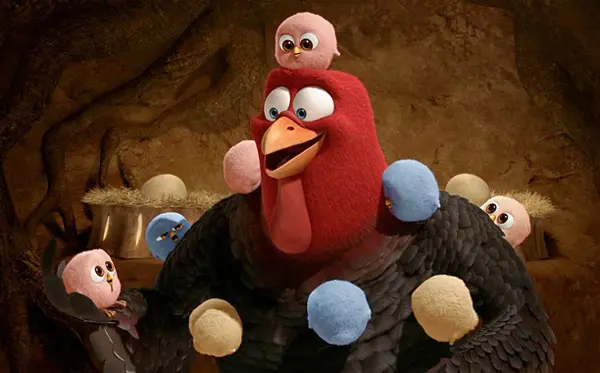 Poehler and Wilson are each veterans in the voice acting world with numerous titles under each's belt, which makes it a bit painful when some of the jokes their characters are strapped with fall flat. The script, especially during the second and third acts, is where Free Birds sorely misses an ample serving of extra gravy on the side.
Free Birds does ultimately entertain thanks mostly to the core "altering Thanksgiving" premise, and it moves at a decent pace from the get go. The unusual appearance of a time paradox in the final act will test the mettle of kids, and likely even some adults.
High-Def Presentation
Free Birds spends much of its opening act in the dead of night, a titanic task for any Blu-ray encode to handle, and this one does so to near perfection. Being animated helps, no doubt, and even though the budget isn't quite up to par with say the Pixar flicks, trust me when I say these are the inky blacks you have been searching for. Likewise, when the sun is out and the turkeys are at play, or scheming, or fighting, their colors are also worth saluting as has become expected of modern CGI-animated films on Blu-ray.
Note that the Blu-ray combo pack was provided by Fox Home Entertainment for this review, though a Blu-ray 3D combo is also available.
The first encounter with S.T.E.V.E. is one of my favorite parts, and it also happens to deliver the most impressive uses of LFE bass and surround sound in the entire film as the time travel sequence is activated and ultimately executed in 5.1 DTS-HD Master Audio. The war drums as the turkeys march into battle are also noteworthy for their depth and spaciousness.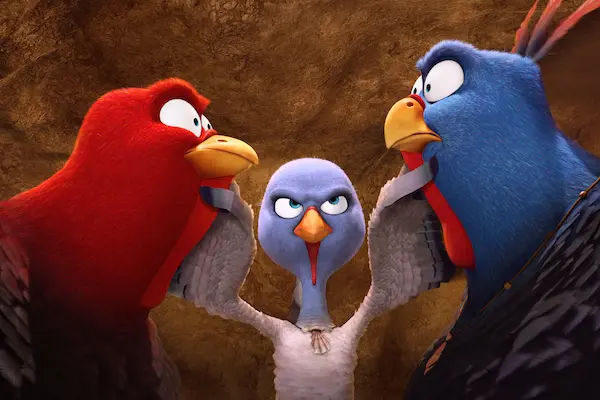 Beyond the Feature
No one likes when the host skimps on Thanksgiving servings and the same holds true for this Blu-ray package. While respectable in numbers, the bonus features are light in composition and tally less than 20 minutes in total length. Of those included, a history lesson presented as a school play if the turkey history were real is the one worth watching.
Birds Flipping History
Animated Free Birds: The Main Course
Winging it: Animators in Action
Talking Turkey with Composer Dominic Lewis
"Shake a Tail Feather" Music Video
Free Birds will make for a fun watch around Thanksgiving festivities given the obvious tie-in to the annual holiday. It's not a flick adults will find a need to revisit, though kids with a soft spot for birds after the monster success of Rio may get sucked in as long as they don't miss the dancing or more clever gags.
Shop for Free Birds on Blu-ray or DVD at Amazon.com (February 4, 2014 release date).