Fast & Furious movies make no effort to hide what they are and certainly don't pretend to be something they're not. Brain checking at the door is a requirement which the franchise's millions of fans have proven time and time again is more than welcome to accommodate. Delivery of the expected "goods" is as predictable as rain being wet to the touch.
The successful formula Fast & Furious movies start with are scenes featuring shiny, colorful cars revving souped-up, after-market engines; shiny chrome – well, everything; NOS Nitrous canisters; and tires that will never, ever, ever go flat.
To further embellish the rides, add scantily clad women dancing to DJ-spun house music, usually in well-lit, well-attended public places, with zero-to-no interference from the authorities.
Now mix in a crime caper of some kind. Hollywood itself actually has a mathematical formula for this that says that if you have more than three leads above the title, the bad guy has to have an army with "X" amount of soldiers/operatives, and expect "Y" amount of double-crosses.
Dialogue amounts to sentences containing no more than four words, and the total syllable count cannot exceed six in any given sentence.
One character has to make a joke every time they are on screen, and another character that chambers a round in a gun after speaking each of the short, staccato sentences.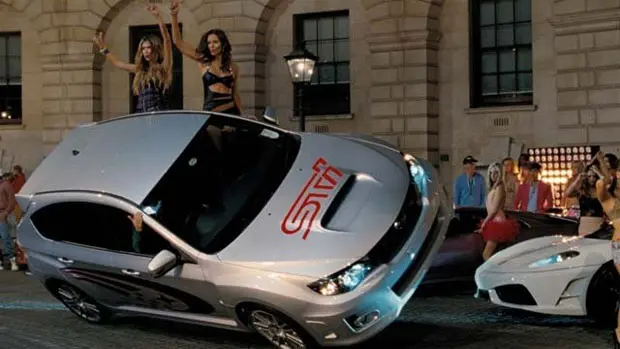 "You feel me?" CHICK-CHICK
This is the Fast & Furious franchise broken down to its elemental core. Even knowing this inevitability, the films deliver time and again, giving audiences a spectacularly fun time in the process.
Fast & Furious 6 keeps the streak alive.
Furious 6 (which is how the title card actually reads) opens with Dom Torreto (Vin Diesel) and Brian O'Connor (Paul Walker) racing through the countryside of the Canary Islands in their muscle cars. When they get to their destination, we learn that Mia Toretto (Jordana Brewster) is giving birth to hers and Brian's son (Dom's nephew) and all is well with the "family" since we last saw them in 2011's Fast 5.
However in Moscow, U.S. Diplomatic Security Service (DSS) agent Luke Hobbs (Dwayne Johnson) and his partner Riley (Gina Carrano) are investigating an ex British Spec Ops operative named Owen Shaw (Luke Evans) who has attacked a military convoy with a volatile, high-octane car gang and stolen a component of a device that, if combined with two other components, will render an entire country dark (ie. no power, no Internet, no phone coverage, etc.) for 24 hours. INTERPOL, DSS and even NATO all think that Shaw will then sell the device to the highest bidding terrorist.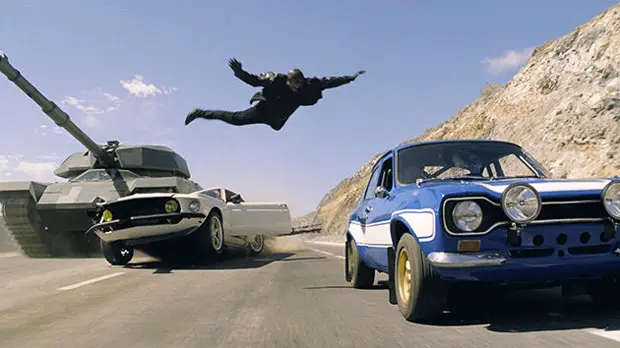 Because Shaw uses a car gang to pull off his heists, and now has two of the components of this mysterious blackout device, Hobbs has to call in Dom and his "family" of fast-driving thieves, thugs, and mercenaries to help him solve the case.
Dom refuses at first, but is convinced to join in when Hobbs produces photographic proof that Letty Ortiz (Michelle Rodriguez) is a part of the heists. Letty, who was Dom's love interest in the first film, was killed in 2009's Fast & Furious when Brian, then working for the FBI, put her deep undercover and her cover was blown, so her being alive is pretty good incentive.
When Dom shows the photo of the now living Letty to Brian, Roman (Tyrese Gibson), Tej (Ludacris), Han (Sung Kang) and Giselle (Gal Gadot) the family reunites and agrees to help INTERPOL and the DSS stop Shaw. You know, recruiting car gangs to battle car gangs is standard operating procedure at INTERPOL, apparently.
Furious 6 is once again directed by Justin Lin, who has directed each installment since 2006's The Fast and The Furious: Tokyo Drift, and is once again written by Chris Morgan (Wanted) who has also been on board as primary screenwriter since the third film in the series. Lin has made directing these films into a science. The car chase/race scenes are well-choreographed and edge-of-the-seat exciting, and the film really moves when the principals are in their cars and driving.
The script works to give a reason for things to happen, but it does borrow from the aforementioned formula all too often. Dwayne Johnson, coming off a standout performance in Pain & Gain, drops back into machismo mode with his delivery and screen presence. Also, his recent return to the wrestling world has forced him to buff up, and his muscles actually outperform him on screen. It's a shame as Johnson is a better actor and deserves better material.
Vin Diesel emotes like a rotted lily pad in a quick-drying swamp, but then again, that's his wheelhouse, and when the script needs him to be badass (which is about 90% of the time), he can pull it off with his natural "I will punch you in the dick" face.
Paul Walker has been playing Brian O'Conner now for 12 years, yet still can't seem to make the guy believable. But Walker gets by on his good looks and blue eyes, and really, most people only care about the car chases and the explosions anyway. The best performances of this cast come of out Chris 'Ludacris' Bridges as Tej and Tyrese Gibson as Roman. Both have the best lines, and have great screen chemistry when working together.
There are some pretty nice fight scenes that are intense and extremely well executed. Gina Carrano and Michelle Rodriguez actually fight one another twice in this film, and as a fan of both women, it was nice to watch. This is Carrano doing what she does best, and Rodriguez's natural look conveys both the frustration and desperation that her character, Letty, is going through for most of the film. Also, Rodriguez holds her own against Carrano, who was an actual MMA fighter prior to her acting career.
When all is said and done, the story and the acting are the last things that anyone cares about in a Fast & Furious film. It's all about the action, and the action is out of this world, testosterone-driven summer movie fun. That's not an overstatement at all. The action pieces are so in your face that I found myself laughing at how insane they were. Lin and company make it actually seem that a group of drivers in cars can battle a tank and a humongous cargo plane that is trying to take off and actually win. And since I checked my brain at the door of the theater, I enjoyed every second of it, as did the crowd I saw it with.
When stuff is blowing up and cars are driving fast and the action is ramped to 11, Fast & Furious 6 is simply unmatched. The story is a throwaway and the acting doesn't even register, but everything else about this film, and this series as a whole, burns like high-octane fuel through an American-built V8 superblock. That's why people watch them. It's why they keep making them.
With a post credits stinger attached to this film, the seventh film is coming, and it should be very interesting.
Fast & Furious 6 is rated PG-13 and opens in theaters everywhere on May 24, 2013.