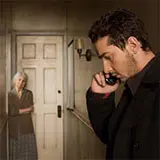 Eagle Eye, directed by D.J. Caruso, is a nitrous-boosted chase movie filled with hold-your-breath car chases punctuated by just enough humor to provide breathing time. Based on an idea by Steven Spielberg (also the executive producer), Eagle Eye abounds in the kinds of eye-popping special effects expected in a modern action film: massive explosions, intense car wrecks and creative technological marvels.
The story of Eagle Eye centers around Jerry Shaw, a professional slacker, and Rachel Holloman, a single mother. Shaw, played by Shia LaBeouf, is a drifter; a Stanford dropout and a disappointment to his father. Shaw's life is turned upside down when he returns home one afternoon to find his apartment filled with terrorist armaments and the FBI knocking down his door.
Holloman (Michelle Monaghan) is a busy single mother, hard working and dedicated to her son. Her life is thrown into chaos when she receives a mysterious phone call with a threat against her son's life. The ransom demanded for her son's safety is nothing more than compliance to the requests of the unknown woman on the phone. Her first assignment: help Shaw escape the FBI.
Eagle Eye plays in nearly non-stop action from the moment that Shaw is discovered by the FBI until the final credits roll. The anonymous woman on the phone dictates actions that put Shaw and Holloman directly in the sights of every federal agency in the country. Framed and blackmailed, the unlikely duo race through one unlikely scenario after another, barely escaping the law at all turns thanks to the ubiquitous presence of the voice on the phone.
The core theme of Eagle Eye is a jumbled mess of big brother governmental oversight and modern-day terrorism fears. The anonymity of the woman on the phone along with the ubiquity of her presence and the depth of her knowledge is key to sustained suspense. Unfortunately, the Orwellian overtones are sometimes overplayed, diminishing rather than enhancing their intensity. Likewise, the terrorism subtext is spotty and disconnected, leaving a feeling that perhaps it would have been better left out.
From an acting perspective, LaBeouf and Monaghan depict their respective characters as well as they have done in previous roles. Their on-screen interaction enhances the illusion of Eagle Eye, making it believable enough that it is possible to become fully immersed in the story. Agent Thomas Morgan, played by Billy Bob Thornton, is unfortunately not as well-developed a character. Thornton plays the rough, funny and endlessly frustrated FBI agent well, but the character is oddly inconsistent which creates occasional head-scratching moments in the story that never fully resolve.
For movie lovers seeking an intellectually stimulating or emotionally complex film, Eagle Eye is sure to be the wrong choice. As fun as it is to watch, critical thinkers and problem solvers will question many of the complex resolutions to fairly simple conflicts. However, fans of high-intensity action films will not be disappointed by Eagle Eye which perfectly fills the gap between the summer blockbusters and holiday family films. It's a great popcorn-crunching, edge-of-the-seat movie that requires little to no investment of higher brain functions. Eagle Eye develops quickly to the chase with limited setup and backstory. It's tension, speed and action. Period.
– Blake Schwendiman