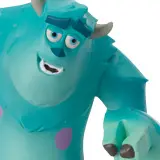 To Infinity, and Beyond! Those words once only meant something to Buzz Lightyear, but now they might as well be a Braveheart battle cry echoed throughout Disney's Interactive unit and the Disney properties they have pulled into Disney Infinity. A mammoth investment by the Mouse House in this ambitious undertaking may have solved the age-old gaming question whose answer has eluded developers for decades: how do you make a movie-based video game that doesn't stink?
The answer can be found in the sum of Disney Infinity's many intricately woven parts.
On the store shelf, Disney Infinity closely mimics Activision's Skylanders with its three-figure Starter Pack, Infinity Base, detailed NFC figures and Play Sets to the point of coming off as a blatant clone. The Disney brand gives it gravitas to distance the product line from feeling like a cheap knockoff, whereas another lesser brand or new IP might not have.
While it's easy to compare the tangible real world Disney Infinity components to Skylanders, in-game comparisons between these two "Toys to Life" titans are so minute that they're not even worth mentioning. Disney Infinity is a radically different game experience beyond swapping out static toy statues on a glowing base, and both games are amazingly fun for completely different reasons.
What Disney Interactive and Avalanche Software have created with Disney Infinity is unique as a whole and wholly recognizable when broken down into its distinctive components. It's a buffet of gameplay styles ranging from platforming to driving and first-person shooting to flying; indoctrination to the core gaming styles for younger players and a springboard into more advanced games as those youngsters age.
Disney Infinity Play Sets
The Disney Infinity Starter Pack includes Play Sets for Monsters University, Pirates of the Caribbean and The Incredibles. Each is a self-contained game with its own control scheme, compatible figure set i.e. Jack Sparrow cannot play in The Incredibles Play Set, and objectives to complete, yet there is cohesion amongst them that helps place these seemingly unrelated pieces into a larger puzzle.
The Incredibles is the standout in this pack with its sprawling city both horizontally and vertically, five compatible figures, and vehicles for land and air. Monsters University devolves into paint gun and toilet paper gun fights for kids, but it's fun nonetheless. And Pirates of the Caribbean is impressively laid out with multiple islands to explore, but sailing to each is incredibly boring and navigation a bear.
If there's one persistent flaw in the Disney Infinity Play Sets it's the lack of a map for navigation. These worlds are surprisingly expansive and it's easy for adults to get lost in them, much less kids. Choosing missions to complete does offer a green directional arrow to follow to the objective, but that doesn't help when other areas need to be reached for personal fun reasons.
Play Sets support cooperative play and this is a crucial component of their allure. Each player can individually select their own missions so Randall could be off scaring frat brothers on one end of the map, while Mike is riding his bike through checkpoints on the other. It lets two players with different playing styles do what they want to do, rather than tethering the two together and inviting a real world skirmish as a result.
Carrying through each Play Set are green and red capsules scattered high and low alike that when broken unlock items for the Toy Box mode and, in some cases, can be quite challenging to reach. There are also character vaults, both for individual characters and one big vault requiring every Play Set character to open, and character-specific side missions hidden in each Play Set that offer money and Toy Box items.
The button/menu layout and design for selecting weapons, missions, backpacks and the Toy Store, where upgrades are offered for purchase as the campaign is worked through, also carries through each Play Set, so players don't have to relearn the wheel when trying a new Play Set out. Conversely, the weapons/item selection wheel's mapping to the right bumper and right analog is cumbersome to accurately use during the heat of battle.
Disney Infinity Toy Box
The heart of Disney Infinity is the Toy Box where characters from Disney and Pixar franchises can mingle and interact in a shared virtual world. The Toy Box is best described as a cross between the world and game building capabilities of LittleBigPlanet and Minecraft, mixed with the massive number of unlockables found in Telltale's Lego Batman games. Like the Play Sets it doesn't offer anything revolutionary per se, but its partial reliance on the Play Sets for a complete suite of building materials, items and characters to populate custom built worlds is both its blessing and its curse.
Undeniable satisfaction comes while in a Play Set and stumbling upon a really cool Toy Box element, as with any unlockable or hidden item discovery in a game. At the same time, these items aren't merely something to check off a list and achieve collector's prosperity. They are part of the Toy Box experience and the Toy Box feels incomplete without them, and there's a constant balancing act at work between elation and frustration when unable to find a particular item and eventually scoring it.
The Toy Box picks up on the personalized play found during cooperative play in the Play Sets and takes it to another level. Each player in split-screen, and up to four if playing online, can pull up their editing tools individually and build their own creations simultaneously. Suppose player one wants to shoot enemies and player two only wants to drive. They can build a wall down the middle of a Toy Box and do their own thing while parents smile as peace is successfully achieved. The possibilities are "infinite," at least within the confines of the Toy Box and whatever elements have been unlocked.
Playing in the Toy Box world is just the beginning. There are "Spins" earned in the Play Sets and Toy Box that can be used in a randomizer game to earn new Toy Box pieces. Mastery Adventures and regular Adventures are available to beef up character stats and unlock even more Toy Box items as tasks are completed. And the expandable Hall of Heroes serves as a reminder that there are more toys coming out that parents will be asked to purchase.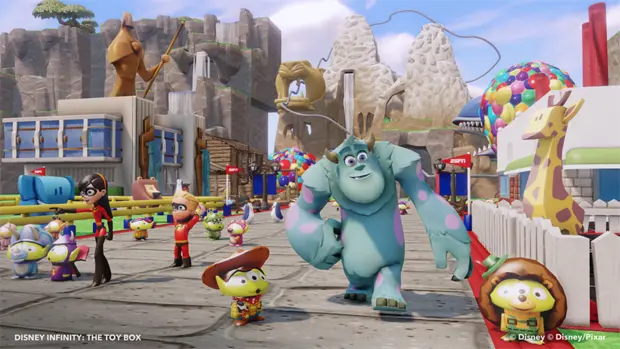 Disney Infinity Power Discs
I am quick to argue with anyone who says the "Toys to Life" toys are only a money grab as I've watched my kids play more with the Skylanders toys than the game itself. However, the Disney Infinity Power Discs are not something I can stand behind. Priced at $4.99 for a blind bag of two, each $2.50 Power Disc unlocks an item or a landscape for use in the Toy Box. They are designed as collectibles to trade duplicates with friends and will surely be popular, but after having to spend over $200 for all the Disney Infinity launch items, having to pay for little plastic discs with zero real world play value – unlike the figures – just to use Carl Fredricksen's cane or Mickey Mouse's car is too much.
Disney Infinity Toys
The Disney Infinity toys feel more like a collectible statue than the type of action figures you might find in the Disney Store. They're incredibly detailed despite the stylized character designs, and solid like a rock. Mater and his three Cars pals feel heavy enough to put on a scale and weigh, and even skinny Violet doesn't feel like she's about to snap in half when picked up.
The three figures in the Starter Pack, Sully, Jack Sparrow and Mr. Incredible, are a nicely balanced starting point. Mr. Incredible is the master of powerful melee attacks, while Jack Sparrow has his pistol for long range combat. Mike is a mix of both with weapons that can be unlocked in his Play Set and a scare attack for up close and personal encounters.
In-game the digital representations of the characters are solid visually, though the entire game has that first generation feel about it. Skylanders is entering its third iteration on consoles so there has been time to improve the visuals from one game to the next. Disney Infinity is in its freshman year so there's still a lot of room for polish in inevitable future iterations.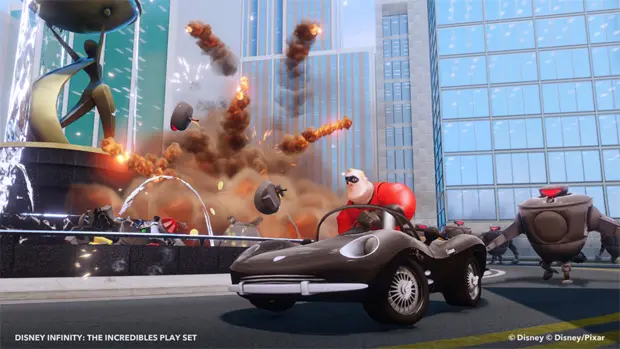 The sheer ambition and expansiveness of Disney Infinity either pushes the boundaries of Xbox 360, the platform I reviewed on, or the game wasn't quite ready for launch despite being pushed back from its original June 2013 date. I have encountered numerous instances of stuttering in both the Play Sets and the Toy Box, and on three occasions the Toy Box froze up completely and the system had to be restarted. It's not shocking for this to happen given the game's complexity, but does beg the question of whether an Xbox One or PS4 port is in the works that might alleviate the issue.
If Disney Infinity is a movie-based video game, and I would argue "yes" considering the Play Sets and toys that power it, then Disney Interactive have solved the problem plaguing those troubled games. Now Disney owned movie-based games with a tight development cycle can be part of a bigger universe rather than trying to stand on their own feet. It makes sense, and as long as Disney Interactive is willing to take chances with the Play Sets and toys rather than strictly adhering to marketing tie-ins with new releases i.e. releasing a Play Set like The Lone Ranger instead of say The Lion King, then I'd expect Disney Infinity to stand on its own feet alongside the mighty Skylanders.
– Dan Bradley
Disney Infinity for Xbox 360 was provided by Disney Interactive for this review. It was released on August 18, 2013 and is also available for PlayStation 3, Wii U and Wii.