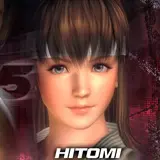 In what has become the status quo for Japanese game publishing houses, Tecmo Koei has released yet another version of the fifth chapter of their popular fighting game series, Dead or Alive, this time calling the package Dead or Alive 5 Ultimate.
DOA5 Ultimate, as it's known, is what you would expect with a name like that: the ultimate version of what many consider the best all-around fighting game on the market. Tecmo Koei has taken the core game and added more content, more features, and even more characters to give gamers the best experience with a DOA game yet.
Taking features from the incredible PS Vita game, Dead or Alive 5 Plus, and adding them to the console version is just one factor. An incredibly stout tutorial mode–first added to the Vita version–gives rookie–and veteran–fighters something to do and to learn. There are almost 40 tutorial topics, each with three or four skills/moves to master. Needless to say, completing the tutorial mode will make anyone a much better fighter, and that is the point.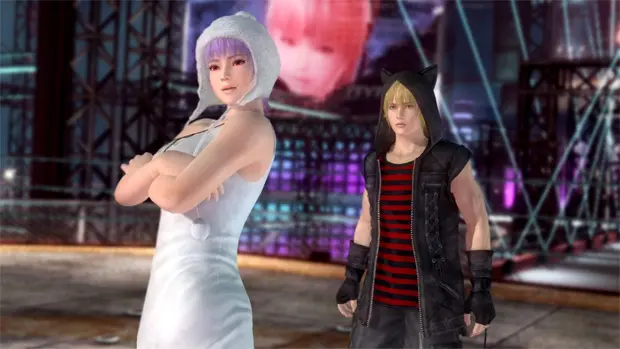 Also coming over from what I called "the best handheld fighter ever" is the Vita version's Move Detail Plus feature, which gives players total control on how and where a fighter where strike, block and counter. This feature alone sets DOA5 Ultimate above and beyond any other fighter on the market.
Five new characters also join the party, including two longtime favorites from the Ninja Gaiden series–which Team Ninja also develops–Momiji and the demon-hunter, Rachel. I really enjoy playing with Momiji, as she is definitely my favorite of the new fighters. Also included are Jacky Bryant from Sega's Virtua Fighters series and two older DOA characters, Leon and Ein. These additions bring the total fighter count to 29.
Other unlockables include titles that gamers can earn by completing different tasks. There are almost 900 titles in the game, giving DOA5 Ultimate an insane level of replayability for the completest.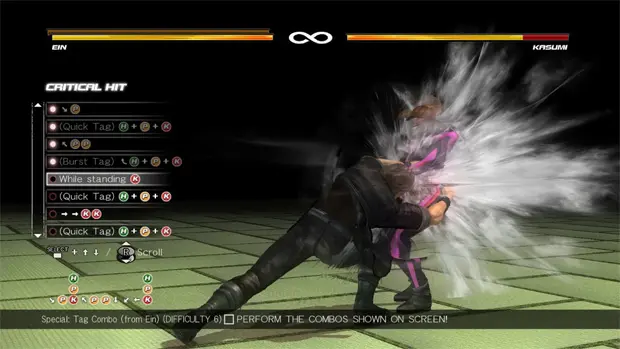 Dead or Alive 5 Ultimate brings back all of the other modes, including story, fight now, and of course online. The beauty of online battles is that at any time you can challenge a fighter, or be challenged, and the game will stop and pull you out of whatever you are doing and take you to the fight if you have accepted. You have the option of accepting, so if you aren't interested in taking your skills to the world outside your living room, you don't have to.
Online battles are also cross-platform, so players who own the original DOA5, the Vita's DOA5 Plus, and owners of this title can all tussle together.
DOA5 Ultimate still looks gorgeous in every way, with shading and texturing that enhances each character, and the "sweat engine," which causes the fighters to perspire in different degrees of action is amazing to look at. Of course, this is a Team Ninja game, so female fighters have a special cosmetic feature that helps control the…bounciness…of certain physical assets. This game may very well be the prettiest fighting game ever, and I'm not just saying that because of the plethora of hot female fighters.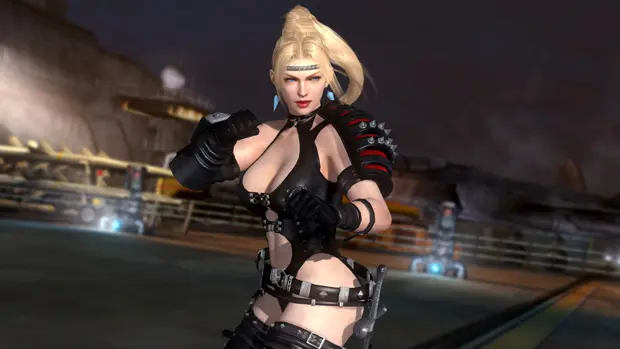 Dead or Alive 5 Ultimate is the best version of arguably the best fighting game out there. If you already own DOA5 is it worth it for the new features? Probably not, even at the reduced cost of $40. But if you somehow missed the game when it was released last fall, THIS is the version you want. It takes the best of the original DOA5 and adds the awesome features from the Vita's Dead or Alive 5 Plus, and then adds even more to, well, make it the Ultimate version of the game.
Dead or Alive 5 Ultimate was reviewed on PlayStation 3 via a code provided by Tecmo Koei for this review. It was released on September 3, 2013 and is also available for Xbox 360.
Shop for Dead or Alive 5 Ultimate for a discounted price at Amazon.com.