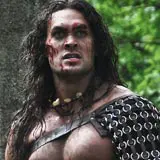 Reimagining a well-known film is daunting enough without having to recast an iconic role that launched the career of one of Hollywood's most notable action stars of the past thirty years: Arnold Schwarzenegger. It's hard to argue there's a better man for the job today than Jason Momoa, fresh off a successful stint on HBO's Game of Thrones in a similar barbaric role.
In retelling the story of Conan the Barbarian for a new generation far more dialed into violence than decade's past, director Marcus Nispel and writers Thomas Dean Donnelly, Joshua Oppenheimer and Sean Hood dispense with the wit, charm and conviction of the original film that made it and Schwarzenegger so memorable. Instead, they let swords fly and heads roll as the Cimmerian Conan spends the majority of his early life hell bent on avenging the sacrificial death of his father that he witnessed as a child-in-training to be a ruthless killer.
As such, Conan the Barbarian plays more like an extended cut scene for a second-rate video game than a film, designed to stab your eyeballs with one visceral attack after another. After Conan has offs his last victim, there's not one memorable one liner or supporting character to take away. Conan might as well have killed them all as that's all he's adept at doing from one scene to the next.
It's hard to blame Momoa for the new shallow and one-dimensional Conan. He has little to work with from the drab script so instead focuses his energy on properly wielding a massive sword and looking good doing it. He does so with style and grace as it slices through countless faceless thugs. Women will dig his physique, so that's a plus for the ladies who don't mind persistent squirts of blood to go with their man watching.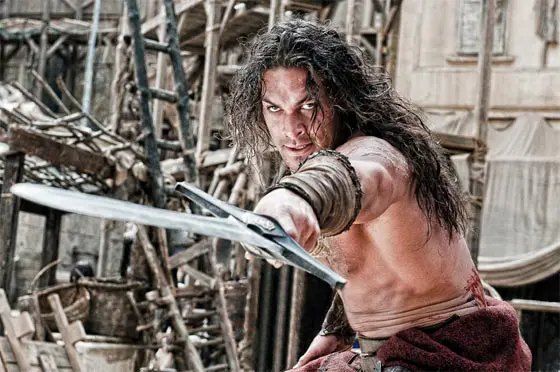 In Conan's crosshairs of vengeance is the villain Khalar Zym, a seemingly unstoppable warlord played by Avatar's Stephen Lang. Zym did in Conan's father and in a continued search, follows a formulaic plot of seeking out all the pieces to a mystical mask that will give him immense powers.
It wouldn't be a film for guys without a hot woman for Conan to seduce, so it is revealed that Zym needs a true virgin to complete the ceremony that will activate the mask's powers. Rachel Nichols steps into this role as Tamara and fills out the beauty requirement with flying colors, but she lacks the natural toughness to believably stand up to Conan when she does. How she survives at all is a small miracle in itself.
Zym, Tamara and the other supporting characters including Zym's deadly Freddy Krueger-like daughter Marique (Rose McGowan) and Conan's pirate sidekick Artus (Nonso Anozie) are sadly more one-dimensional than the barbarian himself, once again a product of the script. None of them fail in portrayals of their respective characters, but they're saddled with having to play the same note in every scene.
That's ironic considering Conan the Barbarian is a one-note film.
3D Presentation
Conan the Barbarian is another victim of an unnecessary post-conversion to 3D. Lionsgate's encode of the 1080p video is actually excellent, impressive considering the numerous active fight sequences and long sequences shot in dim lighting.
The inclusion of 3D comes across as completely unnecessary despite Lionsgate handling the encode of it on Blu-ray 3D, again, excellently. Much of the film watched on Blu-ray 3D feels more like a 2D film until something pops out at the screen. An already dark film with sepia tones constituting the only contrast doesn't need to be any darker, and that's precisely what the 3D glasses naturally do to the presentation. For every neat 3D scene with brightly lit ashes from flames floating on the screen, there's are several nearly unwatchable shots of massive fights that the 3D simply cannot keep up with.
Lionsgate sprung for a 7.1 DTS-HD Master Audio mix for Conan the Barbarian on Blu-ray and wow, it's a good thing they did. There is outstanding dimensionality in the mix from the opening Cimmerian massacre through to Conan's final confrontation with Zym. While bass comes to life when it needs to throughout the film, it extends into stunning territory as Tamara plummets down a chasm while tied to a giant disc. The scene is a rip-off of Indiana Jones and the Temple of Doom, but it's worth returning to just for how impacting the bass is. There's nothing Lionsgate and their audio engineers could have done to provide the necessarily complimentary aural oomph to Conan's violent adventures.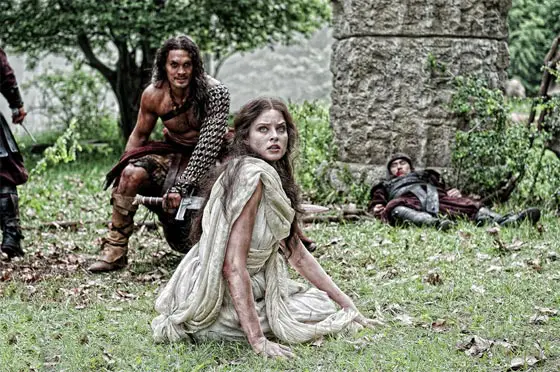 Beyond the Feature
Conan the Barbarian on Blu-ray 3D is a two-disc set that also includes a DVD and digital copy of the film. The bonus features are more than I would have expected Lionsgate to include given the film's theatrical performance, even if none of them are necessarily comprehensive in their subject matter. They are all offered in high definition, though. And as an unexpected surprise two audio commentaries are included, though the cast one is far more engaging and entertaining than Nispel's uncomfortable effort struggling to find words to describe his own film.
Audio Commentary with Director Marcus Nispel
Audio Commentary with Jason Momoa and Rose McGowan
The Conan Legacy (18 minutes)
Battle Royal: Engineering the Action (10 minutes)
Robert E. Howard: The Man Who Would Be Conan (11 minutes)
Staging the Fights (6 minutes)
Theatrical Trailer
The original Conan the Barbarian managed to be a fun and entertaining escapist action film despite its dark subject matter and violence. Today's version nails the dark and violence with blood to spare, but drops the ball on anything else that doesn't involve a blade cleanly slicing through flesh.
On Blu-ray 3D, Lionsgate offers up as solid a presentation for Conan the Barbarian as they possibly could. In hindsight, the decision to post-convert to 3D was not the right one and it shows when watching the Blu-ray 3D version. The audio, however, is absolutely fantastic, and the bonus features offer just enough material to compliment the film for Cimmerian enthusiasts.
– Dan Bradley
Shop for Conan the Barbarian on Blu-ray 3D for a discounted price at Amazon.com (November 22, 2011 release date).