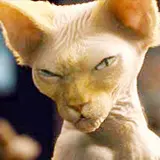 The age-old battle between cats and dogs rages on in Cats and Dogs: The Revenge of Kitty Galore, a serviceable sequel in the kid-friendly Cats & Dogs series that aims to please as much with the implementation of 3D as countless references and nods to adult-themed films. Blu-ray 3D owners, myself included, with slim pickings this holiday season will likely check this out without having watched the original. That's O.K. because this furry spy thriller works well enough as a standalone film, plus there's an added 3D bonus I guarantee will get multiple plays in your home.
As the film's name implies, hairless Kitty Galore (voiced by Bette Midler) is out to rule the world and put dogs and humans in their place once and for all. To do so she'll have to outsmart the secret service equivalent organizations for both Cats and Dogs, enemies forced to come together to battle a common foe from their secretive high-tech MEOW and DOG headquarters, respectively. An over-anxious former police German Shepherd dog (James Marsden), his gruff spy mentor (perfectly cast Nick Nolte), a pinheaded pigeon (Katt Williams) and agile cat operative (Christina Applegate) form the oddball team that will suffer through many misadventures before hitting their mark.
In Cats and Dogs the animals are the stars while the scant few humans take a back seat. This approach is at least a different twist on the overdone Bond-spoof genre that will resonate with kids and might even get a chuckle or two from film-knowledgeable adults. Though Bond might be the core template Kitty Galore is designed around, notable action films such as Lethal Weapon, Terminator, Mission Impossible, Silence of the Lambs and several others are spoofed in almost every sequence. Adults could conceivably play a drinking game called "name that movie spoofed" based on all the references.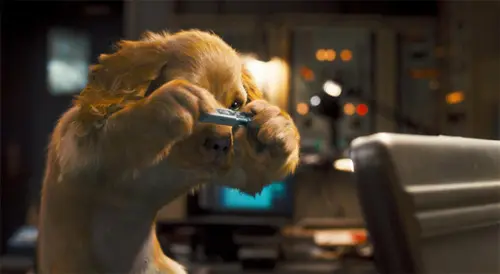 3D Presentation
There are some minor issues with the 3D in Cats and Dogs 2 but not enough to spoil the overall presentation or drive you to the 2D version instead. The majority of the film looks fairly sharp in 3D with varying degrees of depth to the image. Some darker scenes pull out some ghosting issues but again, not enough to cause any major headaches. In contrast are a handful of flying jet pack scenes that produce the film's most notable 3D effects.
One odd bit of 3D authoring appears when the animal operatives visit the home of an old cat lady. For a couple minutes there is some rather radical distortion that stretches the edge of the image. It looks really off, and if you remove your glasses the screen is a jumbled mess of duplicated images. I don't know if this was an authoring error or an intended effect (doubtful) but those minutes don't fit with the rest of the film. My recommendation is to fast-forward through it.
The 5.1 DTS-HD Master Audio track is relatively strong and active, as it should be given the film's genre. Cats and Dogs may be geared towards kids, but there plenty of surround use and bass balanced with clean dialogue. It won't knock your house down like Inception, but there's nothing to complain about either.
Beyond the Feature
Highlighting this disc is a new Looney Tunes short 'Coyote Falls' presented in 3D with a 2D option as well. This short first appeared in front of Kitty Galore in theaters and thankfully found its way onto the Blu-ray 3D disc as well. To be blunt, 'Coyote Falls' showcases what Blu-ray 3D is truly capable of. The high definition imagery is stunningly perfect and the 3D effects are multi-layered throughout. I'd be a happy camper if Warner Bros. churned out a full disc of Looney Tunes shorts in 3D. Trust me; you Blu-ray 3D early adopters out there will want to pop this short in to demo your setup.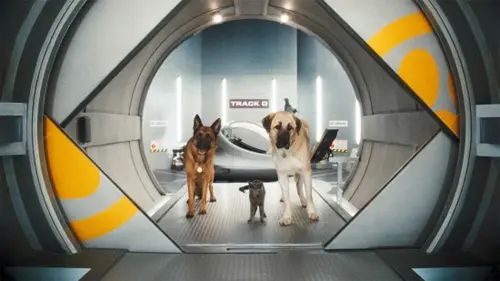 The remaining bonus features are all housed on the standard Blu-ray Disc version included in this combo pack (a third disc houses the DVD version and a digital copy). They are all in HD and include the following:
Yogi Bear Teaser Trailer (3 Minutes)
Dogs Dishing: Tails from the Bark Side of Hollywood (9 Minutes)
The Best of the Best Cat vs. Dog Animated Showdowns (4 Minutes)
Meow-Takes: Outtakes and Gag Reel (3 Minutes)
There are two types of people who will watch Cats and Dogs: The Revenge of the Kitty Galore. The first are younger audiences who saw and legitimately enjoyed the original. The second are early technology adopters hungry for any and all Blu-ray 3D content.
The first group pretty much knows what they're getting into and should come out satisfied. You either enjoy CGI-animated animals talking and walking in the real world or you don't. The second group will be mostly pleased with the Kitty Galore 3D presentation, but will especially fall in love with the Looney Tunes short in 3D. That little gem alone is worth the price of admission.
– Dan Bradley
Buy Cats and Dogs: The Revenge of Kitty Galore on Blu-ray 3D for a discounted price at Amazon.com.