Captain Toad Treasure Tracker Review: Nintendo At Its Finest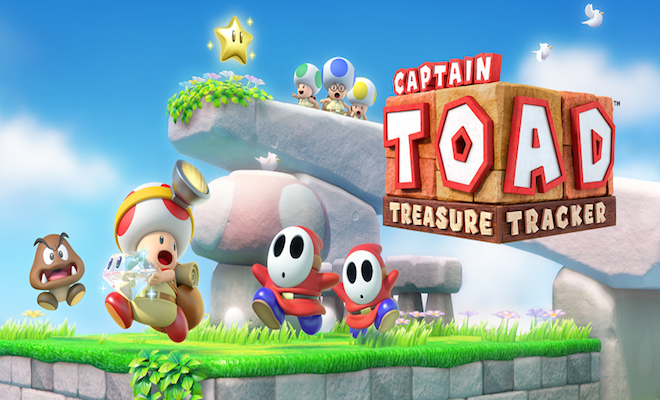 Nintendo is a game company. It doesn't manufacture computers or TVs or DVD players. It makes games and game systems, and no matter how many times they are counted out, they always tend to find ways to climb back into the fight — primarily because they make great games. They are a game company.
Captain Toad Treasure Tracker is the perfect example of Nintendo doing what Nintendo does: creating fun, thought-provoking games that appeal to a wide range of audiences. What started out a side story in Super Mario 3D World for the Wii U, Captain Toad Treasure Tracker has expanded the puzzle solving aspects from those side missions in Mario's game and given Captain Toad a story of his own. The good Captain can't jump; has no powers; and admittedly is a coward, but when treasure is involved, he can sniff it out with the best of them.
There are around 70 levels in the game, which includes a "bonus" section that is unlocked by having played Super Mario 3D World, and the puzzles range from relatively simple to incredibly complex. Each level has a gold star (or green star for the bonus levels), and there are three gems that can be collected per level. In addition, there is a hidden objective in every level that must be met to fully complete the puzzle. It could something like "collect X number of coins" to "kill every enemy," or "don't take a hit." As the levels get more complex, completing the side objectives becomes more difficult.
There are even boss battles which are perfectly balanced in difficulty, and force the player to think and react quickly. In fact, these boss battles are the only time that a level is burdened with any kind of time restriction. This is one missing feature from the Super Mario 3D World levels. Timers added urgency, and without them, players can freely explore each level with no consequence.
The HD graphics literally pop off the screen as the color palette is bright and clean, as one would expect from a game out of the Mario universe. The Game Pad is used in interesting ways, like motion controls, and the touch screen and mic are used to manipulate the levels in neat ways. The entire game can be played on the pad itself, which is nice for multiple game system households.
The music and sound effects, including Toad's high pitched voice, are pulled from previous games giving Captain Toad Treasure Tracker a sense of familiarity for long-time Mario fans, and the unique gameplay and sometimes complex puzzles make for a new experience for newcomers.
Captain Toad Treasure Tracker is a great all-around game. It highlights what the Nintendo Wii U can do, while delivering a gaming experience that is fun and unique all on its own. Even at 70 levels, Treasure Tracker is a little short, as levels can be finished in under a few minutes each, but Nintendo is aware of that and priced it lower than other AAA title releases. Hopefully, there will be future DLC or further adventures of the good Captain, because Treasure Tracker is primed to be the next great Mario universe franchise, joining Yoshi, Wario, Luigi, Peach and even Donkey Kong (and family) as Mario characters to get their own games.
Captain Toad Treasure Tracker was reviewed on Wii U and purchased at retail. It is exclusive to the Nintendo Wii U and is available in both retail and in the eShop.
TheHDRoom may be paid a small commission for any services or products ordered through select links on this page.