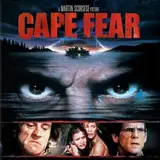 Directors don't come with much more acclaim than Martin Scorsese. Consistently championed for his unique voice and vision that he brings to filmmaking, Scorsese has made some of the most beloved American films of the past few decades. Yet, in 1991, rather than follow up Goodfellas with another polarizing work, Scorsese set out to remake a 1962 B-movie thriller. That movie, as well as the version Scorsese made, is known as Cape Fear.
The film focuses on the Bowden family; Sam (Nick Nolte), Leigh (Jessica Lange) and their daughter, Danielle (Juliette Lewis) and the terror that becomes inflicted upon them by recently released convict Max Cady (a brilliantly maniacal Robert De Niro). 14 years ago, Sam was Max's defendant for a heinous crime that Max certainly committed. Some evidence exists that could have lightened Max's sentence, but it's unknown if Sam was aware of this information. What matters, though, is that Cady most certainly think that Sam was aware of it, and after serving his 14 year sentence, has now decided to make Sam know the true meaning of loss.
Although being a remake, Scorsese made it a point to flesh out much more of the story. Rather than simply make it the bad guy versus the family, he made the family themselves have their own internal struggles, so as to make them not the perfect family that they would seem to be at an outside glance. This helps give the film a bit more depth and keeps the story from being one-note.
Those familiar with much of Scorsese's work might be quite surprised by, compared to his other films, just how creative and inventive he gets with the lens. Some truly mesmerizing camera movements, as well as many nods to Hitchcock and De Palma (the fireworks scene is almost a love letter to the finale of De Palma's Blow Out) make up on of one of Scorsese's most visually impressive works.
To compliment how beautifully shot the film is, the cast puts in some solid and mesmerizing performances. Nolte and Lange simply became this married couple with past issues that are now being hounded by a violent psychopath in De Niro's Cady. Speaking of De Niro, he completely loses himself in this role and seems to be having the time of his life with it. He's able to portray a complete monster of a human being with a charm that could sway anyone. As much as I love her, Juliette Lewis can't do much more than simply be Juliette Lewis, but it works for this role as an angst-ridden teen looking for anyway to earn some freedom from her folks, even if it's in the form of the scary guy trying to kill her dad.
The film also features some fantastically staged scenes that, from a filmmaking standpoint, are a cut above. An elaborate parade sequence and all of the work involving the finale and the various filmmaking methods used to capture both really stand out and flesh out an even more impressive creative package.
High-Def Presentation
Cape Fear hits the HD format with a truly impressive VC-1 1080p encode that simply looks the best the film ever has, while at the same time restoring the film to its true aspect ratio. Detail is excellent, especially in the many numerous close ups and especially in the big finale on the boat, which up until this release was often a mess to decipher. There are fine bits of grain here and there, but they serve to simply give the film that wonderful and warm "film" look. The film begins with a somewhat subdued color palette that gives way to explosions of color once Max Cady arrives. This shift is enhanced by the new found clarity of the picture and serves the film quite well. This is an excellent transfer of a catalog title, which is something that can't often be said for Universal.
Sporting a booming 5.1 DTS-HD surround mix, the audio just might surpass the video in excellence. This is a film that relies on sudden sounds and movement, not to mention the unforgettable score that comes blasting in throughout, and all of it comes through crystal clear. I would say that the score might even be too powerful at times, really drowning out anything else going on. Dialogue is centered and clear and there's an interesting use of the surrounds with water and ambient noise sounds throughout. This track will please any fan of the film, and should be a real treat for the audiophiles out there ready to see what their systems can handle.
Beyond The Feature
Cape Fear arrives on Blu-ray with a fair share of special features, all of which were ported over from the 2001 DVD release. Although the ones included are nothing new and are all in standard definition, they are quite informative and make me wish that every catalog release would receive such an in-depth look at the film and what went into making it come alive.
The primary draw is the almost 90 minute long 'Making of Cape Fear.' This featurette gives an almost exhaustive look into what went into getting the film made, Scorsese's on and off interest, interviews with all of the primary actors and a ton of behind the scenes shots and information that all culminates in one impressive piece that is almost as entertaining (and as long) as the film itself. For any fan of the film, it's worth it for this alone.
There's also some deleted scenes, more quick looks at the parade and the finale as well as a wonderful tribute to Saul Bass, 'Opening Titles,' who created the opening credit sequence for the film. As I stated earlier, there's nothing new here from the last DVD set, but it's all a worthwhile package that compliments the movie well.
Below is the complete listing of special features.
The Making of Cape Fear (SD, 80 min)
Deleted Scenes (SD, 9 min)
Behind the Scenes of the Fourth of July Parade (SD, 2 min)
Photograph Montage (SD, 9 min)
Matte Paintings (SD, 1 min)
Opening Titles (SD, 12 min)
Theatrical Trailer (SD, 3 min)
The disc also contains BD-Live and PocketBlu capabilities, if you're so inclined to use them.
Cape Fear is a truly gripping and riveting tale of revenge and terror. Scorsese has on display some of his most creative and disturbing work and it deserves a rightful place amongst his other beloved films. Nolte and Lange turn in incredible performances that are only outdone by De Niro. Couple this with a vastly improved HD presentation and a wealth of supplements, and you've got a disc worthy of being on any film lover's shelf.
– Matt Hardeman
Shop for Cape Fear on Blu-ray for a discounted price at Amazon.com (October 18, 2011 release date).