Like Modern Warfare before it, Call of Duty: Black Ops for Xbox 360, PS3 and the PC represents "hyped" gaming at its best. One could blame Activision's buyout of Infinity Ward and that studio's subsequent internal and legal collapse for part of the reason gamers shifted their focus to Treyarch's Black Ops for hope in the future of Call of Duty. This is all well and good, but surprising as well given the fact that Treyarch's entries into the CoD brand have always been pushed to the shadows of Infinity Ward by both players and critics alike. Kind of like the little brother who gets half the attention being slightly slower and a little bit smaller then his counterpart. Treyarch never seems to have gotten the credit they've deserved.
A big concern firing up Black Ops is that it may try too hard to be Modern Warfare 3, but Treyarch has put those fears to rest. Black Ops takes you on a thrill ride through the Cold War and adds a heavy dose of classified conspiracy mayhem helped along by a stellar voice cast including Sam "Avatar" Worthington, Ed Harris and even Gary Oldman. Don't expect to just be sent on random military objectives. The story of Mason, the operative in your control, is like something from Jack Bauer's 24 wrapped in a 60's facade with a dash of Platoon for good measure. The plotlines keep you guessing as to who you can really trust, if anyone. Black Ops storyline will keep players interested and intrigued which is something of a rarity with first person shooters, but obviously don't expect "epic" dramatic content as your primary objective is to empty clips, kick ass and take names.
Black Ops is absolutely jam-packed and worth every cent it costs. The campaign is roughly at least 25-30% longer then Modern Warfare 2, not solely focusing on difficulty but on the amount of operations as well. Besides that, you have the monstrous multiplayer and the highly anticipated return of the Zombie mode from World at War. More on those in a bit.
The control scheme in Black Ops is virtually identical Modern Warfare 2's which should satisfy the millions of faithful Call of Duty players who never miss a series entry. Controls are responsive and movement is fluid and easy to grasp. I'm no expert on weapons, but there are a ton of options available for your assaults. One model I don't recall from previous Call of Duty's is the extended and dual-mag firearms. It's nice to cut down on reloads but I can say I may have run out of ammo once in the entire campaign. Ammo is almost a little too abundant, but then again that is usually a result of the sheer amount of enemies you face.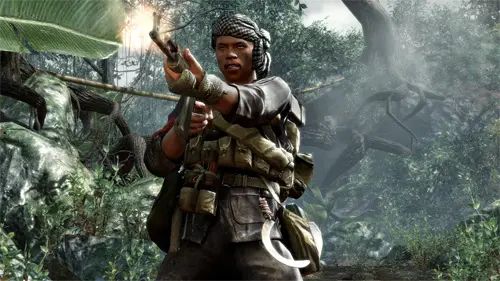 The visuals in Black Ops are, as the bevy of promotional screens and videos have teased, stunning. Environments have huge draw distances and no shortage of detail. Everything from texturing to particles and lighting, to the destruction in the environments is top-tier gaming. When players arrive in the jungles of Vietnam in the game's latter stages and begin treading water in the tropical swamp, you'll realize Uncharted 2's landscapes may have met their match.
Even though Black Ops is a visual beast it is not without some minor flaws. I encountered at least 3 large frame rate drops playing through the campaign in its entirety which must have chugged to below 18-20 frames per second for a full 2-3 seconds at least. These occurrences didn't impede progress but given how fast and frenetic the pace is, the frame stutter was a big distraction during those moments.
A few other issues encountered included random grenades that didn't seem to explode and AI that ranged from moronic to super soldier. Every firefight seems to have the odd enemy soldiers that just stand there in the open waiting to be picked off. They might as well be painted bright pink with a bulls eye on their forehead. On the other end of the AI spectrum are super soldiers who seem to absorb twice as much damage as their brethren for no apparent reason. Besides these hiccups and the odd ragdoll glitch, Black Ops is a very polished game.
Zombie mode returns in Black Ops and is now readily accessible from the main menu without having to beat the campaign first. The Zombie mode in World at War added huge replay value to that title and honestly probably boosted the sales a bit once word got out about the post-credits mode. You start this new bigger and more complex Zombie mode playing in an absolutely massive abandoned theater with at least a dozen unlockable wings and rooms to discover. The undead surge from so many different directions; I've yet to get past wave 7 on my own. The main objective in this theater is to find and figure out how to restore the building's power. To do so, you'll probably want to enlist the help of a motorized turret and the Pack-A-Punch weapons upgrades. The theater is the first of several Zombie mode maps, but you'll have to beat it to gain access to the others.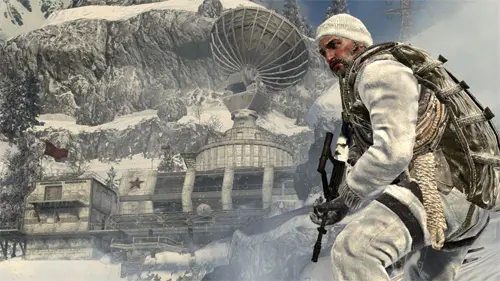 Black Ops online multiplayer is a fully loaded affair with visuals that match the campaign. Featuring 14 maps and 8 game modes dropping combatants into everything from Nuke Town, a phony suburb used for bomb testing, to hot humid jungles and dark urban streets, there is enough variety to appease the hype. Character customization of your person which is the best I've seen offered in a shooter up to this point. Using the "Create a Class" you can unlock and customize pretty much everything. Players can change the look of their soldier, his camo, the primary and secondary weapon etc. That's all standard stuff nowadays, but you can also change the reticule and add different sights and attachments to your weapons like an extended ammo mag. The available options are almost overwhelming to be creating an ultra unique persona for your matches. Every match will bring new challenges and advantages on the battlefield.
I rode the hype train a little too hard back with my Modern Warfare 2 review and its 9.8 score. In hindsight, MW 2 probably only deserved a 9.2ish score, but still remains one of the top shooters this generation. Black Ops did the unexpected and Treyarch should be proud stepping out of the shadow of Infinity Ward. The game delivers on all fronts from the huge replay value in its multi-game modes to some amazing visuals. A new bar has been set in the Call of Duty franchise.
– Jason Krahn
One last footnote for TheHDRoom readers who fancy a good Easter Egg. You can escape from the restraints in the main menu. Find the old DOS computer and type in CD, press 'enter' and then type DOA. Have fun!
Buy Call of Duty: Black Ops for Xbox 360, PS3 or the PC at Amazon.com.