It has been close to a year since Season 2 of HBO's Boardwalk Empire. It was a season of backstabbing and power grabs whose final moments left us with a dead Jimmy Darmody and a Nucky Thompson that pulled the trigger; killing his surrogate son and proving that he was, indeed, no longer simply "half a gangster."
Ever since the show's inception, it's been often criticized for its pacing. Season 3's premiere episode, 'Resolution,' jumps ahead nearly a year and a half to New Years Eve, 1922 and literally flies by, doing an excellent job of catching up with almost everyone (Chalky and Eli were sadly no shows this week) and where this passage of time has placed them.
Although a lot of the marketing for this season has been centered on Nucky Thompson (Steve Buscemi) becoming a full-on gangster, he's really not all that different. He's still selling illegal alcohol, making shady deals with politicians and other ne'er-do-wells, and being cold and calculating whenever he need be.
I don't think this is a bad thing or misstep by the writers. Personally, I think it's right on the money. Jimmy had this idea of who Nucky was and often thought him incapable of some of the crime side of things misdeeds, but I've always felt since day one that Nucky was always ready to go the extra mile to get his way and had already done so in the past.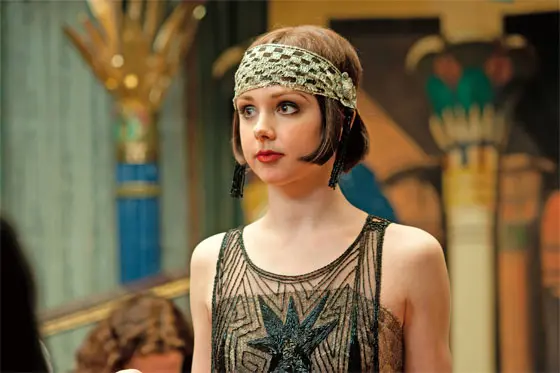 Season 3's opening episode helps cement that idea even further. The big question that this season will surely dive into is just how deep has Nucky dipped into that realm of his self. He's always had a form of balance with being Atlantic City's treasurer. After relinquishing that title last season amidst his law troubles and threats to his empire, Nucky now finds himself as merely a philanthropist, a noble title but not something that will help balance out the darker side and its appetites.
Someone that has seemingly had a shift in perspective is Margaret Schroeder Thompson (Kelly Macdonald), Nucky's wife. Last season was up and down for Margaret as she struggled to find her place in the world and, if that place meant being at Nucky's side, was it worth her soul to be there? Now, Margaret seems almost completely acclimated to the lifestyle of being Mrs. Nucky Thompson; throwing parties, taking up causes, and keeping up appearances. Thanks to a running narrative within 'Resolution' involving a female pilot, there's a sense that deep down that strong willed and feisty Margaret from season one is still lurking within, waiting for a chance to reclaim her sense of individuality and self-sustainability that have over time fallen by the way side. It's only a matter of time.
Many fans worried that with Jimmy being gone, the show would lose its heart. Look no further than Richard Harrow (Jack Houston). Harrow was Jimmy's right hand man with a half disfigured face and an incredible penchant for violence when it's asked of him. He's found himself living as a sort of protector with Jimmy's beyond bizarre mother, Gillian (Gretchen Mol) and Jimmy's son, Tommy. Despite Gillian's brainwashing of Tommy to make him think she's his real mother, Richard makes it a point to remind Tommy of his father and mother as much as possible, both of whom Richard was very attached to. That attachment will continue to drive Harrow's narrative and will undoubtedly affect his relationship with Gillian as well as cause some strife with Nucky.
Most surprisingly, the former Lieutenant Van Alden (Michael Shannon), now Mr. Mueller, also has a way of tugging at the heart strings. This is no small feat, considering Van Alden might be the most emotionally devoid character the show has ever seen. After having his sins catch up with him last season and costing him his life, marriage, job and freedom, Van Alden has taken the assumed name, along with his immigrant babysitter, and set up in Chicago where he's working as a door-to-door salesman and, honestly, is not very good at it. It's revealed that since we've last seen them, he and the babysitter now have another child of their own and all of them surviving on very meager means. A chance encounter foreshadows Van Alden possibly hitching up with some local Chicago gangsters. Unfortunately, it's the guys going against Capone, which doesn't bode well.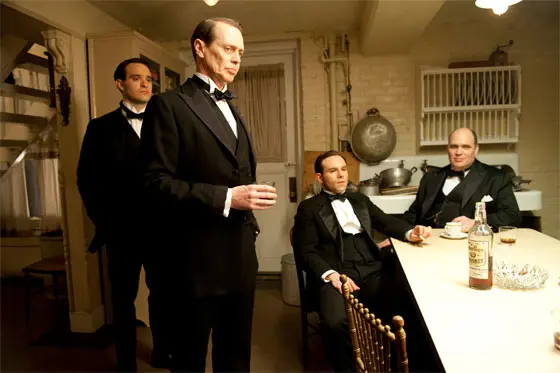 Along with some brief glimpses of other fan favorites (Rothstein, Lucky, Lansky, Eddie Cantor), the episode kicked off with the introduction of Gyp Rosetti (Bobby Cannavale); a hotheaded gangster that's good with a put down but does not like to be talked down to by anyone. The groundwork is laid for Rosetti to be this season's "big bad" and seems to be a formidable foe that will surely cross Nucky's path.
Other notable moments:
– The show continues to be absolutely spot on with its costuming and portrayal of the 1920's.
– I wish the show was about Eddie Cantor. Stephen DeRosa's portrayal steals every moment he's in.
– "How's about those Nefertitties" Good one, Luciano.
– Gyp Rossetti knows his way around a put down.
– Richard Harrow's surprise New Year's Date. RIP, Manny
– Margaret's scene on the beach watching the plane was hopeful for her characters return to greatness.
– How is Mickey Doyle still alive?
All in all, 'Revolution' was a solid premiere episode for the third season of Boardwalk Empire. It did a great job of introducing Rosetti into the mix and establishing him as a player this season. As I mentioned earlier, the pacing of this episode was on speed compared to past episodes.
There was also a neatness to the overall narrative. Boardwalk Empire, much like Game of Thrones, has had moments where the overall story feels stretched thin in service of too many characters. 'Resolution,' however, caught up with nearly every important character and never felt burdensome or forced, and that's something definitely worth applauding. I'm very excited to see where the season goes from here.
– Matt Hardeman