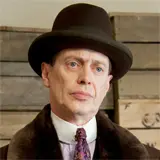 Week by week, Gyp Rosetti is becoming more and more of a thorn in Nucky's side and, lucky for us, is causing Nucky to reinvest himself in his business dealings. This week's Boardwalk Empire episode, 'Blue Bell Boy,' pared itself down a bit and in doing so felt a bit more focused than previous episodes.
Nucky's absence in seemingly all of his empire's endeavors continues to cause friction and uneasiness, but now it's prevalent within his own ranks. He's second guessed by Mickey of all people, and even Owen, Nucky's right hand man, responds and reacts in less than respectful ways and Nucky seems adamant that everyone re-learn their role.
Part of that involves Owen tying up a loose end that was left hanging due to Manny Horovitz's face meeting Richard Harrow's shotgun. That loose end is Roland Harris, the accomplice in the liquor heist from the season premiere. Upon tracking Roland down, they realize he's merely a kid and, for me, flashes of last week's young Jimmy haunting Nucky start creeping in. It's not long before Roland's hideout is suddenly overrun by Prohibition agents who are less than concerned with taking anyone alive. What follows is some solid quality time between Nucky, Owen and Roland down in the rat dropping filled basement. Could one ask for a better setting to spend the night in fear in?
This basement setting filled up much of the episode and, while it kept the episode from having a lot of the visual punch it normally brings, it offered some incredible character interactions and growth within the tiny confines. Nucky and Owen clear the air and acknowledge their relationship for what it truly is.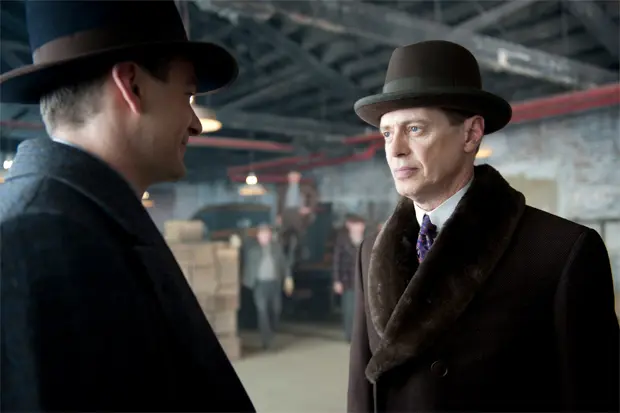 After waiting out the agents, the trio resurfaced in the morning with Owen and Nucky having a seemingly new found appreciation for this young Mr. Roland who not only ripped them off, but has been slightly bragging about it throughout the night. Owen is even convinced that he'll make a great addition to the team. That is until Nucky out of nowhere puts a bullet in Roland's head.
Immediately one realizes that Nucky was going to kill the kid all along. It's almost as if he needed to. His presence has been so sporadic, his lack of involvement felt all over. He needed to show that he's not to be trifled with and that those that do will pay the cost. Little does Nucky know that just up the road Gyp Rosetti has started a war and it's surely not going to be pretty.
The other big story this week was over in Chicago with the much welcomed return of Al Capone (Stephen Graham). Capone's journey from the guy he was in Season 1 to now has been nothing short of mesmerizing and this week's episode went a step further and showed just how much heart he has underneath the tough guy exterior.
Fuming after discovering his deaf son has been beaten up at school, Al tries to teach him how to fight. His emotions begin getting the better of him and his intensity causes his son to become scared and he begins to cry. The old Al would have simply dismissed him, but Al realizes what he's doing and pulls him in tight for a big dad hug. It's a tender moment in a show that has a severe lack of them.
Al soon realizes that bullying isn't specific to the kids, though. One of his collectors, who even Al makes sly jokes with about his weight and smell, is verbally abused by a rival gang member in a bar which then escalates into a full scale beating. Once Al gets wind of this, he's quick to settle the score. Upon finding the guy, Al absolutely demolishes him, and one can't help but think that he was not only thinking of his friend being beaten, but also of his son; both defenseless in their own ways. Al beats the guy to death and in true master bad ass fashion, tosses money on the guy to "pay for his funeral".
Other notable moments and quotes:
– Why does everyone answer the phone mid sex in TV shows and movies? Just let it ring!
– Mr. Poofles
– "Go buy yourself a personality." – Nucky
– Margaret's story seems to be exciting one minute, dull the next.
– Lucky and Lansky are two of the most compelling characters with the least compelling narrative. I know they are obviously slow building to something, but it just seems such a waste.
– "Allowing you to simply go to jail is the last gift I'll ever give you." Don't speak to soon, Nucky.
– "Don't sit next to the window." – Lansky
– "That Rothstein; warm as a lizard." Oh Mickey Doyle, how are you still alive? After blatantly disobeying Nucky and getting his men killed and booze stolen, he might not be for much longer.
– Al singing "My Buddy" was just a perfect scene.
– Nucky and Eli walking on the empty boardwalk in the rain was a wonderful moment and a nod that all hope for Eli might not yet be lost.
'Blue Bell Boy' was definitely an extremely stripped down episode, but it shined in the ways that Boardwalk Empire always does; with its characters and its dialogue. This is a show that, more than anything, is about moments and interactions and this week's episode had some of its best character moments to date. The scenes with Al and his son were just perfect and everything taking place in the hideout was stellar work on all fronts too. This is the kind of thing a show like this needs more often; a chance to let the characters breathe.
I will say that one of the biggest detriments to the show, at least so far this season, is that Nucky is one of the least compelling characters. A lot of people pin that on Buscemi not being a leading man, but I disagree. I think Buscemi has done incredible work in the role and there's obviously been a slow build for Gyp to be his next big thorn in his side, but the way Nucky has been so aloof this season has stolen away much of any narrative focus and makes the character look rather bland, especially in a show with the characters that are beyond compelling like Al Capone, Chalky White, Richard Harrow and even Van Alden. I have faith that Nucky's path is going somewhere, but I will admit that it hasn't been especially interesting so far.
With this Boardwalk Empire episode being a bit more on the quiet side, I've got a feeling next week's, especially after the way 'Blue Bell Boy' ended, is going to be a big one.
– Matt Hardeman