'Blade Runner 2049' Review: Denis Villeneuve Creates A 'Miracle'
Early on in Denis Villeneuve's Blade Runner 2049, Ryan Gosling's Officer K confronts Dave Bautista's Sapper Morton, and Morton says the line, "You've never seen a miracle." Having now seen the film, I can say that I have seen a miracle. A miracle of spectacle and story. A sequel that betters the first film in almost every way. A film that marries science fiction and epic, widescreen pulp noir storytelling. If the original Blade Runner was "sci-fi noir," a futuristic throw back to the detective films of the 1940s and '50s, Blade Runner 2049 is science fiction's Chinatown. And it is truly a miracle.
Blade Runner 2049 is set 30 years after the events of the first film. Officer K (Gosling) is a blade runner, tasked with chasing down and retiring older Nexus model replicants. When he confronts Morton (Bautista), K learns of a secret that could shatter humanity, and so begins an investigation that will force K to confront his own demons, and his very existence, as the walls protecting that secret begin to crumble.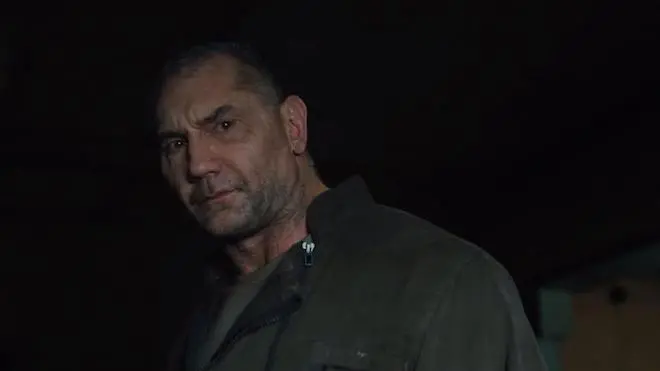 Director Denis Villeneuve (Arrival, Prisoners, Sicario) captures the very essence of the visual world that Ridley Scott, who returns to executive produce, created in 1982. Cinematographer Roger Deakins, who's had his hand in some of the biggest, most important films in Hollywood history, shoots this world in such a way that it feels alive. This is a living, breathing, and some could argue dying ecosystem, and yet it feels believable. Great science fiction does that; it gives us a world that feels real, even with flying cars and artificial humans, and emoting holograms. Blade Runner 2049 has all of that and more.
The script by Hampton Fancher — the co-writer of the original Blade Runner — and Michael Green, based off a story by Fancher, keeps the focus on the events and consequences of the first film, but then adds so much more to the narrative. There are so many wheels turning in Blade Runner 2049, and machinations going on apart from K's investigation, and swerves set up to fool the audience, as well as the characters on-screen, that the comparisons to this film and Roman Polanski and Robert Towne's Chinatown are not only warranted, they are earned, every step of the way.
Academy Award-winning composer Hans Zimmer and Benjamin Wallfisch replace Vangelis, and frequent Villeneuve collaborator Johann Johannsson, to craft a memorable score that contains notes of the original Vangelis soundtrack, all the while adding something new and vibrant. The mood created by the pulsing synthesized score sets each scene perfectly, and there are even call backs to Vangelis' "Tears in the Rain," which helps bridge the two films together. Blade Runner has always been defined partly for its wonderful soundtrack, and that tradition continues here.
Gosling turns in a man's performance as Officer K, and Harrison Ford reprises his Rick Deckard, now a grizzled old man looking to live out the rest of days in hiding. The ensemble cast of the film serves as a tapestry with each actor or actress representing a piece of a puzzle that slowly comes together in the film's 163-minute run time. Jared Leto oozes creepy as the blind genius inventor/capitalist Niander Wallace, and his right hand assistant, Luv (Sylvia Hoeks) is his muscle, as she is as violent as she is pretty.
One of the best performances in the film comes not from the leads, or the legends, but from Dave Bautista. Free of the green body paint of Drax in Marvel's Guardians of the Galaxy, Bautista has one of the most important tasks in the film, as he is the catalyst that sets into motion all of the events that transpire. His role, his character, and even his performance will be the one that scholars will look back on and study the same way the first film is taught in college level film classes across the world. And to really get a sense of Bautista's performance here, check out the prequel short, 2048: Nowhere to Run, at this link. Don't worry, there are no spoilers there, and it is one of three shorts that set up the events in the new film. I highly recommend checking them all out.
Blade Runner 2049 represents all that is good about sequels and of revisiting absolute classics. Everything about this film works, not only to achieve its own place in the pantheon of top shelf science fiction, but it actually makes the first film better. Blade Runner has been debated by critics and fans alike for its importance to culture and to film as a medium, and while I side with those that revere it, I can see how it is not a film for everyone. Blade Runner 2049 changes all of that.
Villeneuve has crafted a visual masterpiece that can stand alone, or as a sequel, and in some ways, it reduces the original film to prologue, as this is the true meat of the grand story that Philip K. Dick created in his original novel. While not a perfect adaption, the spirit of Dick's theme is prevalent, and this film exemplifies that to the highest degree. As a critic, I've seen more films in my life than I would like to admit, some good, some bad, and some incredible. Blade Runner 2049 firmly sits in the column marked incredible, and it is a film that I cannot wait to watch again and again. I've seen an absolute miracle. And that miracle is Blade Runner 2049.
Blade Runner 2049 is rated R and is in theaters on October 6, 2017.
TheHDRoom may be paid a small commission for any services or products ordered through select links on this page.