It's easy to dismiss Beautiful Creatures as another Twilight cash-in. It has a young cast of good-looking actors, and the story revolves around vamp…err…witches, and there is a love story that shouldn't be somewhere in the middle of it all. Yes, very easy to compare the two…except, when you do, you will find out how different they really are.
Beautiful Creatures is the story of a teenage boy, Ethan Wate (Alden Ehrenreich), who feels trapped in his deep southern town of Gatlin. Ethan is trapped by religion; trapped by close mindedness; trapped by ignorance; and trapped by Gatlin's confederate past. And all Ethan wants to do is escape to a college (ANY college, he applies to ALL of them) far away and truly live the world he reads about in the books that the Gatlin school system has banned. Books by Harper Lee, Kurt Vonnegut, and Ayn Rand.
One day, Lena Duchannes (Alice Englert) comes to town. Lena is the niece of Macon Ravenwood (Jeremy Irons), an eccentric gothic gentlemen that lives on a plantation on the outskirts of town. The Ravenwoods helped build the town and still own the majority of it. Also, most people think the Ravenwoods worship Satan, which can be a distraction.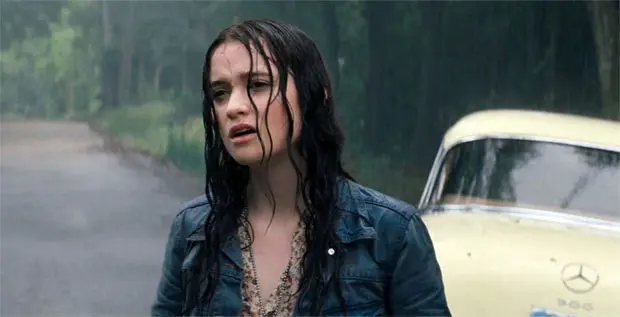 Ethan finds himself drawn to Lena, as she resembles a woman that he dreams about nightly, as she walks across a bloody civil war battlefield with her face concealed by dark flowing hair. Ethan fights to learn more about her, first from Lena herself, and then her family, and finally the truth comes out. Lena, and the Ravenwoods, are "Casters," which is a fancy name for witch, and on her upcoming 16th birthday, the moon will rise and Lena will be chosen by either the dark or the light, and that will determine her life as a Caster.
What really works here is the greater mythology created by first the writers of the novel, Kami Garcia and Margaret Stohl, and now by screenwriter Richard LaGravenese, who also directs. There is a deep story of prophecy and redemption, and it is told rather well. In fact, the fantasy element is ramped up more and more, and ties itself into history and the marriage between the two makes for a magical experience.
The best thing about Beautiful Creatures is in the performances of the actors. Ehrenreich's Ethan is wonderful. His southern accent never wavers (seeing as he is a native to southern California), and his greater joy and the feeling of love he experiences comes out in his performance. I look forward to seeing this kid in more projects very soon.
In addition, Emmy Rossum and Emma Thompson devour the scenery as Casters who were chosen by the dark and desperately want Lena to join them…at all costs. Rossum, particularly, is darkly sexy as Ridley, Lena's sister, and the screen just smokes when she's on it.
Jeremy Irons is serviceable as Macon, and Viola Davis adds another layer to the story as a librarian who also serves as a guardian to a vast network of Caster artifacts. She is the only one who truly knows what is going on, and she truly wants to help Ethan.
The effects and cinematography, as well as the inspired set designs (the Ravenwood mansion in particular–inside and out) are all very well done. Beautiful Creatures toes the line between Gothic southern charm and 21st century nouveau brilliantly. While the set design really works, the music is kind of weak. It really doesn't fit the location (deep south) or the theme (wasn't dark enough.)
If there is another downside, it is in the fact that Beautiful Creatures is playing in a shadow. The novel was published in 2009, which came at the end of the Twilight book series, and the comparisons are justified–if not misguided. With that being said, Beautiful Creatures will unfortunately always be thought of as "Twilight with witches," even though, as I said in the very beginning, that is an incorrect observation. Hopefully, Beautiful Creatures finds its own audience, free of sparkly vampires and lycanthropes who walk around shirtless for no apparent reason.
Beautiful Creatures is better than most of the films it will be inevitably and unfairly compared to. It's not the greatest movie ever made, but it is an enjoyable film with a great story and great performances. And I am not a teenage girl. As the book is the first in a series of four, hopefully, Beautiful Creatures finds success and the rest of the books can then be made into films. I know that I for one would like to see them.
Beautiful Creatures is in theaters nationwide on February 14, 2013, and is rated PG-13.