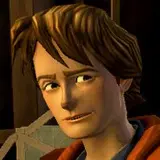 Back to the Future's 25th anniversary brought back the beloved trilogy of films looking more brilliantly executed in high definition than it ever has. It also delivered something a quarter of a century surprisingly could not.
A regularly spoken truth is that video games based on film properties are guaranteed failures due to rigid narrative structures and compacted development schedules. Though examples are too numerous to name you are best advised to toss those thoughts into a Mr. Fusion as far as Back to the Future is concerned. This isn't any ordinary film being gifted the pixilated treatment. It's a classic perfect in every way, a nostalgic anchor to a time when adventurous films from the likes of Spielberg, Zemeckis and Lucas were bursting with creativity, cutting edge technology and style.
Back to the Future demands an exemplary translation to an interactive video game which tasked developer Telltale has not taken lightly with Back to the Future: The Game Episode 1 'It's About Time.' To help create an extension of the films, Christopher Lloyd was brought in to add authenticity returning in his iconic role as perpetually hysterical Doc Brown. In every other instance where the original talent wasn't available, stand-ins like A.J. LoCascio pull off a Michael J. Fox impression as Marty that would probably fool Michael's family.
Back to the Future film co-writer Bob Gale served in an advisory capacity on the game's narrative which further lends authenticity to the experience. Set a few months after Back to the Future 3, Doc Brown once again forgot his iron and left some potentially dangerous wrinkles in the fabric of time. Marty and Einstein (Doc's dog) are Doc's only hope in a new adventure that takes place primarily during the 1930s in the age of Prohibition.
It takes some getting used to the cartoony design Telltale has chosen for Back to the Future as at first the overly stylized characters seem borderline creepy and out of place. Once Marty and Doc start speaking and acting and the plot gets moving forward, the stylistic choices make a lot of sense. The films and the game play out like a Saturday morning cartoon with their sense of discovery and over-the-top action. Animation is a natural fit for this type of storytelling.
One thing Back to the Future won't deliver are gaming thrills. It's a slow-paced game designed for players to take their time interacting with characters, examining objects and solving basic puzzles to move onto the next objective. In fact, the puzzles are so basic that inclusive hints to help solve them are unlike to ever be needed.
Though Telltale has chosen to go easy on the difficulty factor to make Back to the Future: The Game more accessible for casual gamers, they've made one misstep that keeps it from being a family experience. Within the opening scenes Marty belts out a choice four-letter word. Other not-so-family-friendly vulgarities are spoken throughout the game. That's fine for adults, but I was considering playing for the first time with my five-year old daughter in the room. Glad I didn't.
With kids safely tucked into bed, Back to the Future: The Game Episode 1 successfully brought me back to my childhood and continued the story of Marty and Doc in an exciting way that feels like the beginning of a fourth film. Maybe every game based on a movie should require a 25-year buffer before being released. Or maybe Telltale needs to be involved in more games based on big entertainment properties. With Jurassic Park and 'The Walking Dead' games to look forward to, thankfully they are.
– Dan Bradley
Back to the Future: The Game is available exclusively on the PC and Playstation 3 (via PSN).