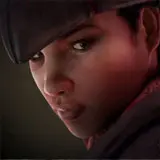 It seems fitting today, on Election Day, to be writing about Ubisoft's Assassin's Creed III Liberation. The Assassin's Creed III story (for both of the console titles and the PS Vita-only Liberation) takes place during the backdrop of the birth of our nation. How much more patriotic can you get.
Assassin's Creed III Liberation follows the story of Aveline de Grandpre, the daughter of a former African slave and a wealthy French merchant. The game is set in and around New Orleans (and the surrounding bayou) and takes place in the late 18th century. Because Aveline comes from both of the slave and aristocrat worlds, she makes for an interesting member of the Brotherhood. Her story is one of freeing slaves, and of furthering her family's wealth.
It is an interesting dichotomy, especially since the narrative in Liberation is quickly mired in the need to "get to killing," and certain storytelling elements are washed over. How did Aveline become a member of the Brotherhood of Assassins? We are never shown, and are left to guess to fill in that part of the story. We are privy to meeting the man who trained her, a bayou dweller named Agate, but again, no exposition as to any history there.
Even with the story struggling to move forward, Liberation does begin to transcend those shackles. The gameplay is very tight, as one would come to expect from an Assassin's Creed game. The PS Vita's dual control sticks make free running simple, and Aveline shares with her console counterpart the ability to climb trees and jump limb to limb. Her tool set includes the requisite gun and blades, but also a whip, a machete, and a blowgun.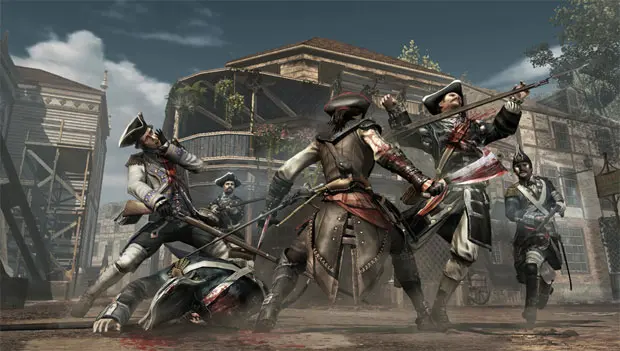 I particularly call out the blowgun, as poison dart is my weapon of choice to assassinate my targets. When that doesn't work, I have my trusty blades. When I perform enough assassinations, a meter fills up which allows me to pull off a chain kill. A chain kill allows me to tap targets on my screen, usually in a group, and then unleash a fluid succession of death and destruction. It is a high point of the game and looks amazing on the PS Vita's 5″ OLED screen.
In addition to the front touch screen use for chain kills, the map and weapon wheels are also interfaced by touching their respective icons. I find this works better that, say, pressing R2 or L2 and it adds a rhythmic feel to playing Assassin's Creed III Liberation.
Not every PS Vita control works, though. For every good, intuitive control, such as stroking the back touchscreen to paddle a canoe, you get one that works 60% of the time, and never as advertised, such as the overly difficult back touchscreen pickpocket minigame. Trying to tail someone and use the back screen to pick his or her pocket is a nightmare. And there is a maze-like minigame that uses the PS Vita's six axis gyro controls that is flat-out broken. I applaud Ubisoft for trying to use the PS Vita's features, but most feel shoehorned into an experience that doesn't call for gimmicky controls.
Where Liberation really begins to pick up steam is in the new PS Vita-centric features. Aveline has the ability to switch out personas (or costumes), each having strength and weaknesses on the greater game. She can dress as a slave, and move freely in crowds, unnoticed by all, but takes a hit in the combat stats. She can dress as a proper plantation lady, complete with parasol. The lady persona can charm guards and gentlemen on the street, but is severely hampered when it comes to climbing, meaning she can't. At all. The last persona is the assassin, which is good at combat and at climbing, but everyone notices her, and guards will chase her.
There is also a shipping/trade game where Aveline runs a shipping business. It is a way to earn cash, and to buy bigger ships to facilitate longer trade routes. It's a rather deep minigame and adds a whole new level to the overall experience.
Easily, my favorite thing about Assassin's Creed III Liberation is in the overall place this game fits into the greater story of the war between the Templars and the Brotherhood. Desmond Miles has nothing to do with Liberation, so Ubisoft Sophia and Ubisoft Montreal came up with a unique way to tie this into those mythos. The game itself is a propaganda tool created by Abstergo to hide the Templars in history. Yes, in a very meta move, Ubisoft has made us all accomplices in the war by playing Liberation. In fact, after the Ubisoft logo rolls out in the beginning, it is followed by the Animus Logo, followed by the Abstergo Industries logo. It's brilliant!
During the game, your PS Vita will be hacked, and an Erudito operative will interupt your game and talk to you, the player, not Aveline, telling you to hunt and kill "Citizen E." Doing so will show you what really happened with a new cut scene, correcting the history that Abstergo changed by making this game. As I said, very meta, and very, very brilliant.
Abstergo also plays into the multiplayer arena, which uses the PS Vita and the player's location in a "capture the node" game using real world locations. Most are done in real time and it is asynchronous. It's not the same as, say, going on missions with or against friends, but it's a unique addition to Liberation as a whole.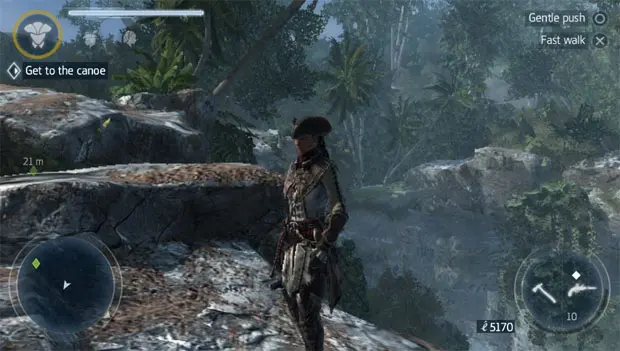 Liberation also uses the "near" PS Vita feature to allow the player to share in-game rewards with friends in the real world. The LiveArea is pretty bare, with only the owner's manual and start tab.
Lastly, in regards to the game, there is a unique connectivity feature between Assassin's Creed III on the PS3 and Liberation. The games cane be synched, which unlocks features and a mission in each game. Late in Liberation's story, Aveline will even meet Connor. It is an interesting feature.
Even with the spotty, hole-filled story and new controls, both good and bad, Assassin's Creed III Liberation is a great game. The features more than make up for the failings, and the whole Abstergo thing needs to be applauded for its innovation. Enough cannot be said about the hidden Abstergo agenda of the game itself and Ubisoft's dabbling in meta gaming. This hidden feature alone makes Assassin's Creed III Liberation one of my favorite PS Vita games to date.
Shop for Assassin's Creed III Liberation for a discounted price at Amazon.com (October 30, 2012 release date).