It was impossible to keep up the momentum from the mid-season finale, but The CW's Arrow has returned from the break with a decent episode that follows the villain of the week format. The story jumps ahead five weeks to mirror the real-time gap between episodes, and things have changed in Starling City. Blood's campaign is moving forward with the full support of the Queen family, and Arrow is hard at work trying to track down the mysterious man in the skull mask. Things are happening and a whole new storyline is ready and waiting to be rolled out, and I cannot wait!
1. What is it?
Arrow Season 2, episode #210, titled 'Blast Radius.'
2. Who's in it?
Stephen Amell stars as Oliver Queen/Arrow; Katie Cassidy as Laurel Lance; David Ramsey as John Diggle; Emily Bett Rickards as Felicity Smoak; Colton Haynes as Roy Harper; Willa Holland as Thea Queen; Susanna Thompson as Moira Queen; Paul Blackthorne as Quentin Lance; Manu Bennett as Slade Wilson; Guest stars this week include Sean Maher as Mark Scheffer/Shrapnel; Caity Lotz as Sara; Dylan Neal as Professor Anthony Ivo; Kevin Alejandro as Sebastian Blood; Dylan Bruce as D.A. XXXXX; Jesse Hutch as Officer Daily; and Roger Cross as Lucas Hilton.
3. Who made it?
'Blast Radius' was written by Jake Coburn and Keto Shimizu. The episode was directed by Rob Hardy.
4. What is it about? (**spoilers galore**)
'Blast Radius' opens with a Brother Blood Acolyte being chased by Arrow. The emerald archer is trying to find out more about the mysterious man in the skull mask, but the acolyte doesn't know anything. Arrow is back to square one in his quest to find the masked man and the Mirakuru he's been producing.
It's been five weeks, and Barry Allen is in a coma back in Central City due to his untimely accident. Felicity has been spending a lot of time there by his side, much to the chagrin of Oliver.
A pill-popping Laurel (Kassidy) and Sebastian Blood (Alejandro) are still dating, though for some reason that can only be woman's intuition, Laurel suspects him and is investigating her new beau. The other Lance, Quentin (Blackthorne), is also investigating things, specifically the phone records of SPD to find out who may have tipped Cyrus Gold that Lance's task force was coming for him, which lead to the deaths of everybody but Lance and Officer Daily (Hutch). I don't know, "Detective," (using the term very, very loosely) maybe Daily should be your first suspect.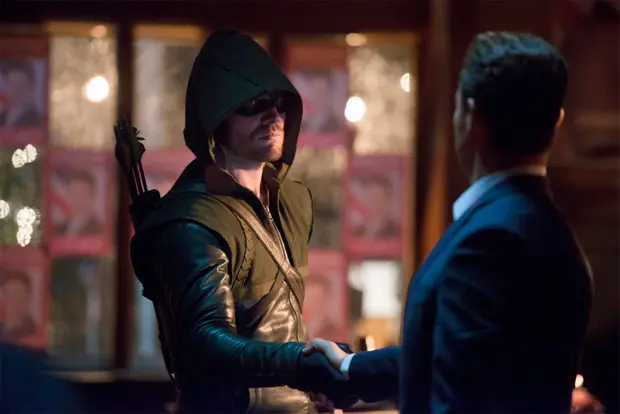 As all of this is happening, a terrorist bomber called Shrapnel (Maher), which happens to be his screen name in the message boards of an organization called The Movement, decides to start blowing up buildings in Starling City as part of a politically-driven, anti-corporation protest.
Ollie, who has been publically supporting Blood's run for mayor, now has that to deal with, too. When Felicity (Rickards), now back from Central City, is able to triangulate the location of the bomber after an attack, Arrow speeds after him on the Arrow Cycle, only to be led into a dead end that near leaves him dead and plastered to the front of a bus. This makes Ollie snap at Felicity back at the Arrow Cave for focusing too much on Allen and not on the mission there in Starling City. Felicity stands her ground and Diggle (Ramsey) can only watch as his two partners begin to implode.
Sebastian Blood organizes a "Unity Rally" downtown to show the world that the citizens of Starling City will not bow down to fear, and Arrow visits him to try and talk him out of it. Blood refuses to yield and Arrow now has to work that much harder to find the bomber.
The night of the rally comes and Arrow is able to track down the bomber to his antique gift store. There, he is caught in an explosive trap and can only watch as everyone he cares about descends on the rally downtown that is rigged to explode. Ollie and Felicity make up for the most part and she is able to help him out of the trap, while Diggle finds a bomb and is set to dismantle it just as Shrapnel appears with a gun to prevent him.
Arrow shows up and a gunshot rungs out as Diggle is winged (literally), and Arrow and Shrapnel have a one-on-one confrontation. Shrapnel threatens to blow all of the bombs that he has planted in Starling City at once, and Arrow quickly ends that threat with a well-placed arrow, as well as a bad ass quip while doing it.
Back at the Arrow Cave, Ollie and Felicity hug it out, and he tells her that she is his partner, giving her equal measure in his world.
The subplots this week have Roy (Haynes) adjusting to life after unplanned Mirakuru therapy. It seems that he is moody, but also heals incredibly fast and is stronger and impervious to most pain. Thea (Holland) is worried that something is wrong with Roy, but he refuses to tell her what happened at the hands of Brother Blood.
Laurel, as mentioned before, is investigating Blood, and he tells her about his horrible past as he watched his mother kill his father and that was how he was orphaned. She is not satisfied and searches deeper, discovering a mysterious name. She asks her equally inept father for help in tracking down the person, only to find that the woman is Blood's aunt and that she is in an insane asylum. Laurel's inability to know when to say when sends her to visit this woman, who claims in her insane state to be Blood's mother, meaning Blood killed his father and put his mother away to keep her quiet about it.
On the Island, Slade (Bennett) is obviously driven to hunt down Ivo (Neal) for killing Shado, and as they lay her body to rest, he and Ollie have the first of two tense confrontations–this one involving the jealousy that Slade had with Ollie.
Sara (Lotz) talks Ollie out of telling Slade that Ivo killed Shado because Ollie protected Sara instead.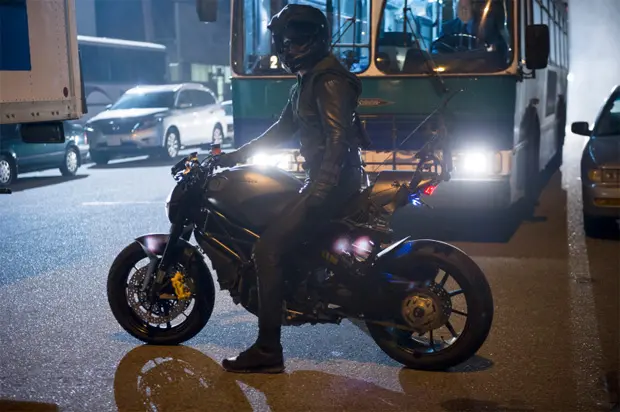 Later, Slade and Ollie get into it again after Sara suggest they make camp for the night, and Slade almost crushes Ollie's throat with his newfound super strength.
Ending the Island story, Ivo reaches out to Sara on the radio and demands that they give him the Mirakuru, or he will hunt them down until he has it. He also offers both she and Ollie a ticket off the island if they comply. Ollie sends Sara to go get Slade, but she comes back alone, saying that Slade is gone and has taken the stash of Mirakuru with him.
5. Any revelations, tie-ins, easter eggs, etc.? (**SPOILER!**)
This episode was essentially reference free, as most callbacks had to do with the events of the previous episode. The Movement, for which Shrapnel is a part of, could allude to a DC comic book by the same name by Gail Simone and Freddie Williams II.
6. Will we watch next week?
Yes. The single image of Deathstroke, one of my favorite DC Comics characters, was enough to ensure that this show will have my undivided attention on January 22. And even with Laurel being completely mishandled all season, and it's actually getting worse, I have hope that she will have a turn around. After all, addiction and Green Arrow are not strangers, and there is comic book precedence for the spiral that Laurel is on. I hope that I'm not giving too much trust to the writers, but seriously, they have yet to fail me. Fingers crossed for the possible greatness to come.