Ant-Man Blu-ray 3D Review
Marvel's Cinematic Universe hits its stride when an overburdened reluctant wisecracking hero with questionable morals gets to sit in the driver's seat. Robert Downey Jr. fit the bill as Tony Stark and Chris Pratt has carried the torch as Peter Quill. No we have Paul Rudd as Scott Lang in Ant-Man, a film whose high concept premise built around a shrinking device plays remarkably thrilling and comedic without jumping the shark.
Rudd's natural likability and finely tuned comedic timing makes him perfectly suited to play ex-convict Lang, a man unable to visit his own daughter and left with nothing to lose. As fate has it, Lang crosses paths with Hank Pym (Michael Douglas), a brilliant scientist who develops a shrinking/growing technology that can change the world.
It's hard to imagine this technology not being a "bigger" deal in Marvel's world, especially as the film kicks off with a cool flashback to S.H.I.E.L.D. circa the late 1980s. It has been all but forgotten in a world now inhabited by green giants, aliens and gods.
With great technology comes those who wish to take advantage of it, and that's where the grossly underdeveloped Yellowjacket (Corey Stoll) villain comes in. His nefarious motivations are based on a decades-old grudge that gets pushed under the mat in favor of spectacle and wit.
Lang shares some of that wit and humor with Luis (Michael Pena), a fellow thief incapable of saying anything that isn't funny. Pena and Rudd are great together and will hopefully share the screen again in the sequel.
After watching Ant-Man it's hard to accept that director Peyton Reed came on the project at the last minute. He gets the character, from his motivations and attitude to the way he interacts with numerous species of ants.
Reed's greatest accomplishment in Ant-Man is his treatment of the macroverse that Ant-Man and Yellowjacket traverse. The perspective and detail when Ant-Man is small is astounding and a perfect match for 3D viewing on Blu-ray 3D. A great decision to shoot in 1.85:1 brings the macroverse up close and personal including dust balls that look like tumbleweed.
Befitting a 7.1 DTS-HD Master Audio soundtrack for a major Marvel motion picture, the audio mix is outstanding with strong fidelity and high marks across the board.
Marvel and Disney have included an average number of supplemental features headlined by an audio commentary featuring both Rudd and Reed, and  a brisk tour through the macroverse offering hints at how some of the key shrunken scenes were shot.
Making of an Ant-Sized Heist: A How-To Guide
Let's Go to the Macroverse
WHIH NewsFront
Deleted & Extended Scenes
Gag Reel
Audio Commentary
Sneak Peeks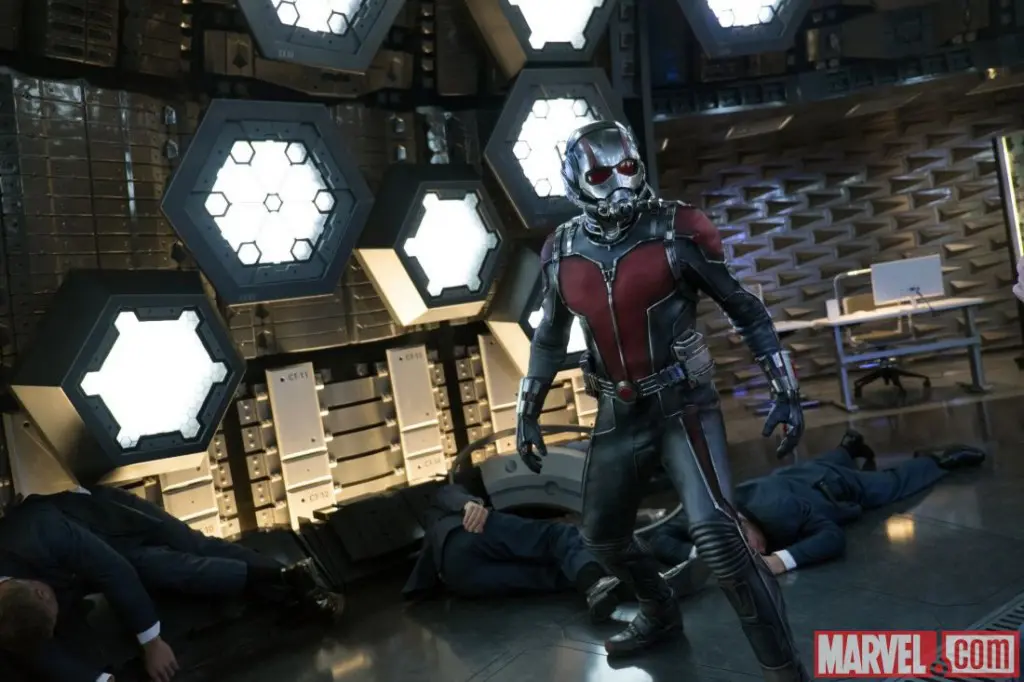 After the director shuffle only a few weeks before shooting was scheduled to begin, it seemed like the already fragile premise of Ant-Man was destined to become a fantastical flop. Credit to Marvel and Peyton Reed for following through on a vision that both works on its own as well as intertwined with the greater Marvel Cinematic Universe. Technically sound on Blu-ray 3D combo with Blu-ray, DVD and Digital HD, Ant-Man packs a big entertainment punch in a small package.
Ant-Man on Blu-ray 3D, Blu-ray and DVD was released on December 8, 2015.
TheHDRoom may be paid a small commission for any services or products ordered through select links on this page.