I must admit that I was honestly a bit skeptical going into Season 1 of FX's ultra violent, overtly sexual hit American Horror Story: Season 1 on Blu-ray. Horror has had its fair share of great moments on TV, namely The Twilight Zone, Twin Peaks, Tales from the Crypt, and many episodes of The X-Files. In recent years, though, the idea of "Horror TV" has been watered down drivel that is all style but no substance; usually built around teen angst and processed sexual interludes. I went in to American Horror Story expecting more of the same but was pleasantly surprised and beyond impressed by just how damn good it really is. I was immediately intrigued by the wonderfully terrifying opening sequence and by the end of the pilot episode, I was hooked.
The story revolves around Ben and Vivien Harmon (Dylan McDermott and Connie Britton), a couple that has recently been put through life's ringers via tragedy and mistrust. Hoping to rebuild their life together and start anew they pack up and move to Los Angeles with their teenage daughter Violet (Taissa Farmiga) into a gorgeous home that has a history all its own; a history filled with murder and mayhem and, more importantly, the ghosts that those things leave in their wake.
Part of what makes Season 1 of American Horror Story work so well is within its narrative approach. From the pilot to the final episode, the show tells the story of the Harmon's and the torment they are put through by the house and each other. What mixes it up is an almost Six Feet Under like approach at the beginning of the episode that provides the history of the house and its past (and present) inhabitants. This aspect leads into certain episodes having that "monster of the week" quality that many fans of The X-Files love so much. What makes it work is that even with it having that mentality, the show always pays service to the broader storytelling and makes for a wonderful package.
Another high water mark is the supporting cast. McDermott, Britton and Famiga do believable work as the Harmon's and one can really get a sense of their troubled, complicated relationship although McDermott can at times come off as a bit overdramatic. As good as they are, the supporting characters blow them all away.
There's Moira, the house maid who somehow has an older, more motherly appearance (Frances Conroy) when seen by women but becomes a sultry, sexualized vixen (Alexandra Breckenridge) when seen through the eyes of men. There's Tate (Evan Peters), a teenage patient of Ben's who takes quite a shine to the Harmon's daughter Violet who has quite a few secrets to coincide with his inner darkness. Dennis O'Hare portrays my favorite supporting character of the show, Larry Harvey, a former resident of the Harmon's new home whose body is over fifty percent burned and is a genuine loose cannon with a penchant for the blackest of humor. Fan favorite Jessica Lange gives an utterly deranged yet bizarrely captivating performance (a performance which recently won her an Emmy) as the Harmon's neighbor Constance, an aging Southern Belle who knows a whole lot more about the Harmon's new abode than she lets on.
All of these characters bring their own spirit and feel to the show and really make it more rounded out effort and truly enhance the storytelling. There's even more characters that add to the shows appeal, the Rubberman and Infantata are eerie standouts, as well as nods to real life horrors that bring even more creepiness into the show's stellar atmosphere.
It's immediate from the get go that American Horror Story is definitely a show that has a very established sense of style about it. Unlike its more recent predecessors into the world of televised horror, it packs substance. There's unbelievably graphic violence, but none of it ever feels for the sake of being graphic. Most of it comes as a consequence of someone's bad choices or simple lack of awareness. The show is also quite sexual, but it never feels safe or unwarranted. There's always a temptation to that side of the show that makes it feel more edgy and more unrestrained.
I'm also quite shocked and amazed at what FX is able to get away with, and I think that's the biggest compliment I could give to a show with so much violence and unbridled sexuality. It's shocking and never feels safe and that's what makes it truly a cut above.
I will say that I feel like some of the shows storylines ended a bit abruptly at the end. I know the plan for Season 2 is to offer a completely different story (while surprisingly using some of the same actors in different roles) so they had to tie up a lot of plot threads, but I do wish that there was more to look forward to with these already established characters. That said I am also excited for the new season and to see what direction the creators take this wonderful series.
High-Def Presentation
Sporting a MPEG-4 1080p AVC transfer throughout all episodes, American Horror Story: Season 1 looks astounding throughout the entire season. One of the only TV shows still shooting on film, this HD release maintains that truly cinematic look that the show's creators have obviously strived for and excelled at. There is a fine level of grain throughout, but does become a bit excessive in some overly dark scenes. Colors are at times a bit muted, but still maintain richness. Detail is exceptional from clothing to texture and especially the gore. All in all, this is a top notch transfer.
The audio isn't quite as impressive, but still manages to do the show justice. This Season 1 set features a 5.1 DTS-HD Master Audio track that manages to provide a clear and consistent representation of the show's sound field. Dialogue is strong and clear and focused in the front center speakers and, while not as immersive as I would like the show to be, there is a fair share of ambient noise and general creepiness that leaks out of the rears to provide an atmosphere that works. Music really shines, especially the 1-minute terror that is the opening sequence. This is definitely solid mix all around.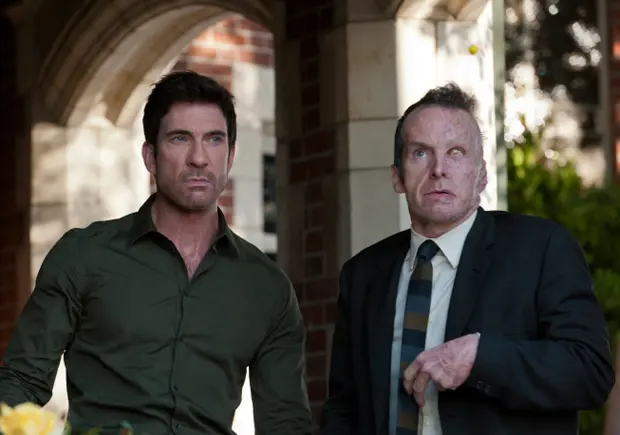 Beyond the Feature
American Horror Story comes to Blu-ray accompanied by a decent amount of special features and, much to my pleasure, all in HD. Most notable of the bunch is the Pilot Episode Audio Commentary with Co-Creator Ryan Murphy, which, while sadly being the only commentary on the set, goes into incredible detail with Murphy as he provides information on setting, casting, and the production as a whole. It's a great companion piece to Behind the Fright: The Making of American Horror Story, a near thirty minute behind the scenes look at the creation of the show featuring interviews with just about the entire cast and crew behind the series. Both are musts for fans of the show. There are also some nice quick peeks at the house itself and its many inhabitants.
The following is a complete listing of all included special features:
Pilot Episode Commentary with Co-Creator Ryan Murphy
The Murder House presented by Eternal Darkness Tours of Hollywood (HD, 7 min)
Behind the Fright: The Making of American Horror Story (HD, 25 min)
Overture to Horror: The Making of the Title Sequence (HD, 9 min)
Out of the Shadows: Meeting the House Ghosts (HD, 15 min)
I went into American Horror Story: Season 1 on Blu-ray with very little expectations and came away with one of my new favorite shows. An excellent mix of visual and physical storytelling wrapped in a bundle of terror and sexuality that few shows have ever nailed so well. The set is worth it for the show alone, but with such an amazing visual presentation, strong audio mix and a decent amount of extras, this Season 1 set is a must have for any true horror fan and is highly, highly recommended for anyone out there feeling adventurous with their TV show viewing.
– Matt Hardeman
Shop for American Horror Story: Season 1 on Blu-ray for a discounted price at Amazon.com (September 25, 2012 release date).