'Aladdin' Review: A Diamond In The Rough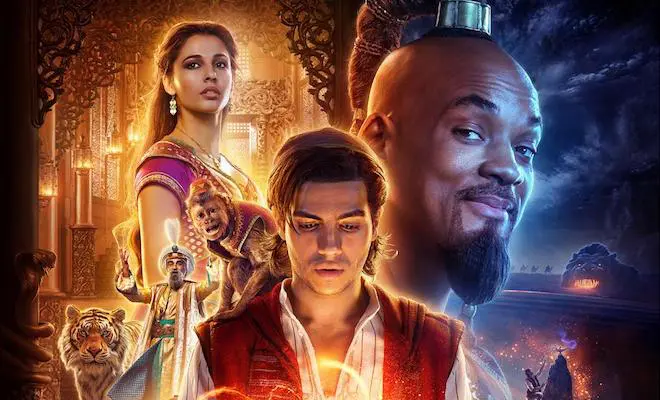 Disney's live action remake of Aladdin has suffered from fans' outrage at its very existence, almost since it was announced. The disdain has been sorely misplaced, as Guy Ritchie's film sparkles in almost every way, and creates a fun, gorgeous, and toe-tapping time for fans of the original animated film and new fans who maybe haven't seen the 1992 classic, if there exists such a person.
Aladdin is the tale of a common street thief (Mena Massoud) who falls in love with a princess (Naomi Scott), and with the help of a magic lamp and wish-granting genie (Will Smith), the thief tries to steal her heart. Also, there's lots of amazing songs, with award-winner Alan Menken providing lyrics, and large-scale dance numbers, and Will Smith bringing his unique take to the beloved Genie character first made famous by the late, great Robin Williams.
Ritchie's Aladdin doesn't try to reinvent the story, nor is it a shot-for-shot remake. It's an amalgam of both directions. There are new characters, like Dalia (Nasim Pedrad), Princess Jasmine's handmaiden, and Billy Magnussen plays a suitor from a distant land for great comedic effect. There's also a new song, "Speechless," that Jasmine sings, which is meant to empower her, and women everywhere, but sadly feels out of place in this particular production. With all the classic songs that fans know by heart, this new song, which sounds like a poppy Katy Perry anthem, sticks out — and not in a good way.
Massoud and Scott are perfect as Aladdin and Jasmine, respectively, and both exceeded expectations. Scott brings both a regal charm and defiant strength to the role, and Massoud and Abu, his pet monkey, sell the idea of him being a "street rat." Marwen Kenzari plays the Sultan's vizier, Jafar, and unfortunately, his screen presence isn't as big as needed for a character like Jafar.
Sure, he plays a slithering, conniving villain, but Jafar was always bigger, more robust in his grand schemes to take over Agrabah. He filled the screen and made you fearful by his mere presence. I didn't get that from Kenzari. Alan Tudyk voices Iago, playing him more like an actual parrot and less like a villain's henchman/partner.
The biggest surprise here was Will Smith's Genie. Smith had the unenviable task of trying to take the role over from the late Robin Williams, and most of the ire directed at this version of Aladdin comes from his casting. That ire is misplaced, and Smith makes the role his own, by both honoring Williams and doing new things with the character.
Going in, I feared that his Genie would sway more to the urban side, which would have been a fine new direction, but instead, this Genie is played like that old best friend you have who makes a joke at your expense and you both laugh at it as you know there was no harm intended. I enjoyed this Genie and that's all on Will Smith and his performance.
I spent a good two hours smiling during Aladdin, so much so that my face started to hurt. The spectacle of it all was just — fun. The colorful costumes and huge production numbers, including the show stopping "Prince Ali," made me want to sing along, and Ritchie's direction was well suited for this story. Some of the themes from the original have been downplayed here, or outright changed, but it works. It all works. This is an Aladdin I would gladly watch again and again, to try and recapture the joy I felt in my screening, and to escape with a visual and aural treat for the whole family.
Disney's Aladdin is yet another live-action remake of a classic animated story, and with Lion King coming in July and Mulan a few months later, I look forward to these films more and more. The live-action Beauty and the Beast didn't do much for me, but I loved Jon Favreau's amazing live action Jungle Book, and I now add Aladdin to the love column. This movie had some major roadblocks to overcome, but like the titular character, it turned out to be a diamond in the rough.
Disney's Aladdin is rated PG and is in theaters on May 24th.
TheHDRoom may be paid a small commission for any services or products ordered through select links on this page.