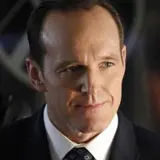 I'm not going to say anything about this episode of Marvel's Agents of SHIELD. I've seen Captain America: The Winter Soldier and all I can say is things are going to change. Big time. Those changes start with this episode. The title is very apropos.
To avoid spoiling anything more than usual, here are the 6 Qs of 'The End of the Beginning.'
1. What is it?
Agents of SHIELD Season 1, Episode 16, titled 'The End of the Beginning.'
2. Who's in it?
The series regulars, Clark Gregg as Phil Coulson, Ming-Na Wen as Melinda may, Brett Dalton as Agent Ward, Chloe Bennet as Skye, Elizabeth Henstridge as Simmons, and Iain De Caestecker as Fitz. Guest starring this week is Bill Paxton as Agent John Garret; Saffrom Burrows as Victoria Hand; Titus Welliver as Agent Felix Blake; J. August Richards as Deathlok; Maximiliano Hernandez as Jasper Sitwell; B.J. Britt as Agent Antoine "Trip" Triplett; and Brad Dourif as Thomas Nash.
3. Who made it?
'The End of the Beginning' was written by Paul Zbyszewski; the episode was directed by Bobby Roth.
4. What is it about? (**Spoilers Ahead**)
'The End of the Beginning' opens with Agents Garrett (Paxton) and Triplett (Britt) checking into a safehouse in Sydney, Australia and then being attacked by Deathlok (Richards). SHIELD's five best field agents (well, four agents and a field commander) board the Bus for a special briefing by Coulson (Gregg). Agents Blake (Welliver), Hand (Burrows), Sitwell (Hernandez), in addition to Garrett and Triplett are brought in, as Coulson feels that the Clairvoyant is close and that he may have a plan to find him.
He has had Skye scouring the Index, the database of "gifted" individuals, looking for persons that may match the Clairvoyant's abilities. They have narrowed the list to 13 persons.
Coulson wants to use Skye's (Bennet) expertise in "finding a needle in a haystack" to run down some leads, and Hand at first refuses as Skye isn't a SHIELD agent. Simmons (Henstridge) and Fitz (de Caestecker) are taking a blood sample from Skye, and the two mention studying her blood for abnormalities. Skye is then called into the meeting. Coulson gives her a badge and BAM! the traitor is an agent. Just like that.
Skye is congratulated and then she briefs the agents on her idea of using double blinds to keep the Clairvoyant from figuring it out. The agents, along with May (Wen) and Ward (Dalton), team up and head out and only when they are close to their destination will Skye send the info.
Deathlok receives a gift from the Clairvoyant in the form of a new piece of armor/weapon that attaches to his wrist.
Agent Sitwell says his good byes to Coulson as he gets new orders to board a freighter, The Lemurian Star, for a top secret SHIELD mission.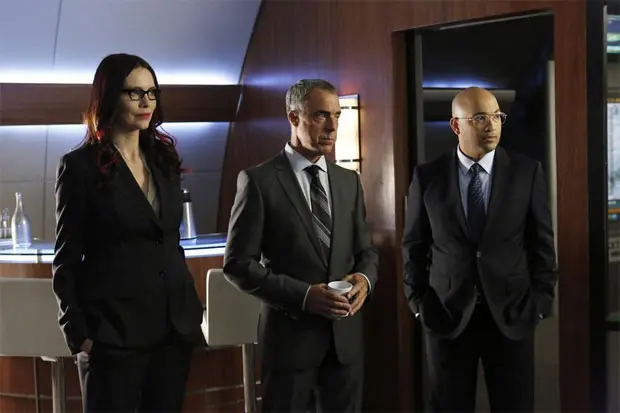 Fitz develops a new tracking round and he shows it to May, as Simmons spills the beans that they want to study Skye's blood. May asks them to tell her first if they learn anything.
The remaining agents are paired-off to hit the field and the only team that gets a hit is May and Blake, who run into Deathlok (Richards) and Blake is put into intensive care by the murderous cyborg. May is able to fight him off, but his presence tells Level 7 that the man that Blake and May went to question, Thomas Nash (Dourif), could be the Clairvoyant.
While Coulson and May are going through Blake's belongings, they discover that Blake, before he was nearly killed, switched magazines and fired a tracking bullet into Deathlok, which Fitz (de Caestecker) is able to trace to an abandoned racetrack in Pensacola, Florida. The team scrambles to the sunshine state and they find Deathlok and chase him through the abandoned corridors, but Coulson realizes that the cyborg is trying to lead them away and instead, Coulson and his team find a room full of monitors and a computer and a crippled Nash, who speaks to Coulson and Ward about his plans.
The Clairvoyant tells them that Skye will have to die for the next part of his plan and Ward shoots the invalid man in the chest killing him. SHIELD takes Ward into custody and the hunt for the Clairvoyant is over.
Garrett and Triplett go back to hunting Deathlok, and they bid Coulson and what remains of his team farewell. May tells Coulson that Director Fury (Samuel L. Jackson) is back at the Triskelion–the SHIELD headquarters in Washington, D.C. and Coulson asks her to take them there in the Bus.
Skye talks to Coulson and tells him that maybe the Clairvoyant only used Nash to throw them off the scent and that she has been pouring over SHIELD files and thinks that she has figured out how the Clairvoyant knows so much: he works for SHIELD.
Coulson begins interrogating Ward, asking him who ordered him to kill Nash and Fitz, tracking down a strange anomaly in the Bus's communications finds a top secret encrypted phone in the cockpit that only May can use. May discovers his and he leaves bumbles his way out of it. Fitz tells what he found to the now hot-blooded Coulson just as May realizes that she has been compromised.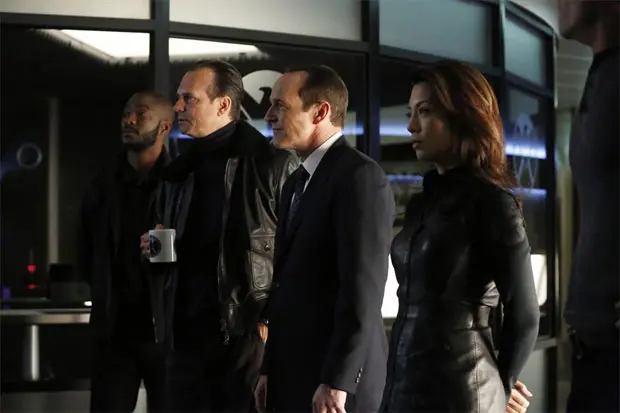 This leads to a stand off in the cargo hanger with the team pointing guns at one another. As the scene gets tense, the Bus suddenly changes course and heads in a new direction, now controlled by Victoria Hand, who tells her people to kill all aboard the Bus when it lands save for Coulson, who she wants to deal with herself.
In the post-SHIELD scene, we get a nice two-minute scene taken right from Captain America: The Winter Soldier. And it fits perfectly here once you see the film. Trust me.
5. Any revelations, tie-ins, easter eggs, etc.?
Lots of set ups for Captain America: The Winter Soldier. Mention of Canada's Department H (Alpha Flight, anyone?) The x-ray images taken of Deathlok looks just like the classic comic book version, down to the fleshless face and steel cybernetic implants. Nice touch, director Bobby Roth!
6. Will we watch next week?
Having seen Captain America: The Winter Soldier (twice, actually), I know what kinds of twisted things are coming up in the next few weeks, and when the promos throw out tired euphemisms like "everything will change" and "a game changer" they really, REALLY mean it. And seeing how this week's episode actually worked as a prequel–taking us right up to the story of Winter Soldier, next week's Marvel (which was what Clark Gregg's voice over said, as opposed to the whole show title in the "stay tuned" intro over the Shield at the end of the episode) is the most important episode of this young series. Everything will change. Including the game.