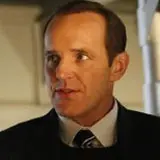 The long break really hurt Marvel's Agents of SHIELD. After a successive run of great episodes, the flow was broken. 'T.A.H.I.T.I.' was good, don't get me wrong, but is really needed to back up 'T.R.A.C.K.S.,' as by the time we got back to a story involving Skye fighting for her life, I had lost some interest.
There were a few interesting bits, including Quinn's admitting to why he shot Skye, and of course, Coulson's revelation at the end. And the post-SHIELD scene is setting up my most anticipated episode of the season as a very special actress guest stars, revisiting her cinematic character. It should be worthy.
1. What is it?
Agents of SHIELD Season 1, Episode 14, titled 'T.A.H.I.T.I.'
2. Who's in it?
The series regulars, Clark Gregg as Phil Coulson, Ming-Na Wen as Melinda may, Brett Dalton as Agent Ward, Chloe Bennet as Skye, Elizabeth Henstridge as Simmons, and Iain De Caestecker as Fitz. Guest starring this week is Bill Paxton as Agent John Garrett; David Conrad as Ian Quinn; B.J. Britt as Agent Triplett; Robert Belushi as Jimmy; Julie Civiello as Nicole; Sarayu Rao as Dr. Jazuat; Jake Newton as Guard 1; Michael J. Silver as Guard 2; and Elena Satine as Lorelei.
3. Who made it?
'T.A.H.I.T.I.' was written by Jeffrey Bell; the episode was directed by Bobby Roth.
4. What is it about? (**Spoilers Ahead**)
'T.A.H.I.T.I.' opens with the immediate aftermath of 'T.R.A.C.K.S.' Coulson's (Gregg) team is at the SHIELD Trauma Zentrum in Zurich, Switzerland so SHIELD doctors can save Skye's (Bennet) life. When the doctor (Rao) says that the damage from the two gunshot wounds she received courtesy of Ian Quinn (Conrad) are too severe and that Skye is on her way off the mortal coil, Level 7 decides to move heaven and earth to try and save her.
Melinda May (Wen), showing way too much concern for Skye, decides to take it out on Quinn, and Ward (Dalton) and Coulson have to force her to stop beating the prisoner.
Coulson orders Skye to be moved onto the Bus, and disregards a direct SHIELD order to deliver Quinn to the Fridge for questioning. The groups flies off for a destination of Bethesda, Maryland where Coulson himself was worked on and brought back to life as seen in episode 11, 'A Magical Place.'
This forces SHIELD to send in Agent John Garrett (Paxton), who is a long time friend of Coulson and was once Ward's SO. Garrett boards the Bus and orders his second in command, Agent Trip Triplett (Britt) to secure Quinn for extraction. Coulson explains the entire situation to Garrett, who then decides to assist the team in questioning Quinn and trying to save Skye.
As Garrett interviews Quinn, it is revealed that the Clairvoyant ordered the billionaire industrialist to shoot Skye to find out how SHIELD would save her, as Coulson himself was saved. The whole procedure is unknown to the Clairvoyant, which infuriates him (or her).
The team begins to piece together what happened to Coulson and is able to ascertain that he was never in Bethesda and it too was something put into his brain by the crazy robo-thingy we saw in 'A Magical Place.' The team figures out that Coulson was actually kept at a place known as the Guest House and they take the Bus there in hopes of recreating the procedure that was used on their leader to save Skye.
While Simmons (Henstridge) and Trip monitor Skye, Fitz (De Caestecker) joins the ground party of Garrett, Ward, and Coulson to infiltrate the Guest House. They are met with resistance from two armed guards (Jake Newton and Michael J. Silver) and they are able to find a sample of the serum–known only as GH325–that was used to stabilize Coulson after he had died. Fitz rushes the serum back to the Bus as the facility begins to self-destruct. Coulson stumbles into a room labeled "T.A.H.I.T.I." and discovers a shocking secret about the serum and his resurrection.
Garrett finds Coulson stumbling in the halls of the facility warning them not to use the serum on Skye and the two seasoned agents get out of the facility just as it blows up. Coulson tries to stop Simmons from using GH325 on Skye but is too late and when Skye's vitals stabilize, it seems that the serum worked.
As Garrett and Trip disembark the Bus, Garrett asks Coulson about his ramblings and what he saw in the lab and Coulson plays it off, but his memories are very clear. He came across the source of the serum, the remains of a bluish toned, humanoid creature in a tube. Coulson now knows that there is something alien in his blood. And now Skye has it, too.
In the post SHIELD scene, a mysterious woman is wandering the Death Valley desert only to come across a newly wed couple on their honeymoon. While the young bride (Civiello) is busy, the woman introduces herself as Lorelei of Asgard (Satine) and she seduces the young man (Belushi) to take her out of the desert and into whatever trouble she has cooked up. The young bride watches in tears as her new husband and the beautiful goddess race away.
5. Any revelations, tie-ins, easter eggs, etc.?
Let the speculation begin as to what (or who) was in the tube that is the source of the mysterious formula that saved both Coulson and now Skye. Kree? Skrull? Atlantean? Dr. Manhattan? Whatever it was, it was supposed to be the game changer for the show, so let's hope that it pans out.
6. Will we watch next week?
Lorelei on earth doing what she does best: seducing weak-willed men. Only a strong warrior who is impervious to her charms can stop her. Enter: Lady Sif (Jamie Alexander) from the Thor movie franchise. Next week just became appointment television.