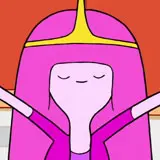 Slamacow! Algebraic! P-Biz!
If you recognize any of the above phrases, there's a good chance that you are already quite familiar with Jake, Finn and the Land of Ooo. If you aren't, than you're in luck, dear friend, as Cartoon Network has just released Adventure Time Complete Season 1 and Complete Season 2 on Blu-ray and both sets are nothing short of incredible.
Adventure Time is an animated series created by Pendleton Ward that follows the adventures and exploits of a young boy named Finn (Jeremy Shada) and his best friend, an anthropomorphic dog named Jake (John DiMaggio). Together they set out on quest after quest to help the kingdom any way they can, as well as each other. They paths often cross a wide assortment of characters such as Marceline the Vampire Queen (Olivia Olsen), Princess Bubblegum (Hynden Walch) and the nefarious Ice King (Tom Kenny).
One of the strongest aspects of Adventure Time is found in its writing and storytelling. Yes, the show often delights in the silly and the absurd and is definitely not above a well-timed fart joke, but it also manages to deal with issues of relationships, family and friendship that one rarely finds so well handled as it is here. Finn constantly finds himself in awkward moments and I feel like that is something kids and adults can both benefit from.
Coupled with the great writing is a truly unique art style that lends itself perfectly to a fantasy land filled with candy people and a dog that can literally change his body into just about anything. There are moments that feel a bit reminiscent of Ren & Stimpy where the animation changes to highly detailed close-ups and really showcase the artistic talent behind the shows normal minimal approach.
Both season sets feature 26 episodes each and, after burning through all 52 episodes, I can surely attest that there is not a single bad one in the bunch. Each episode is full of laughs and, just as important, is full of heart.
Among the regular voice talent, the series has also had its fair share of celebrity guest voices, featuring Brian Posehn , Andy Samberg, and Henry Rollins just to name a few. The Season 2 set also features Ron Perlman as he voices the ongoing big bad of the show, The Lich.
High-Def Presentation
When discovering that all 26 episodes of each season are jammed onto one disc, one might be inclined to think there might be some detail loss or issues. Well, you'd be absolutely wrong! Both Seasons 1 and 2 sport 1080p VC-1 encoded transfers and they look phenomenal! I personally love seeing animation in the high-def format, and these releases are some of the cream of the crop. Colors nearly leap off the screen and the fluidity of the animation is at times breathtaking.
The sound mix on the other hand, while perfectly serviceable, isn't quite as astounding. Rather than a 5.1 mix, these two releases were given Dolby Digital stereo 2.0 mixes. While there aren't any issues, as dialogue and effects are quite clear and pronounced, one can't help but wonder what a 5.1 mix would have brought to the sound scape and overall immersion it would have provided.
Beyond The Feature
Adventure Time Complete Season 1 and Season 2 both come to Blu-ray with their own fair share of special features. While Season 1 only has four Commentaries with Pendleton Ward and various other creative minds from the show, it also has quite a few featurettes: Behind The Scenes, Behind the Behind the Scenes and Finndemonium, a look at how Finn has taken over the cosplay world.
Season 2 lacks many featurettes but makes up for it by having 26 Commentaries! That's right, one for every single episode. Each commentary here features Pendleton Ward and, as the disc informs viewers upon playing said commentaries, Ward has filled in moments of dead space with various music instrumentation making for an even more lively and fun experience. The Season 2 set does contain one featurette, The Crew of Adventure Time, which features Ward interviewing the various creative people behind different aspects of the show.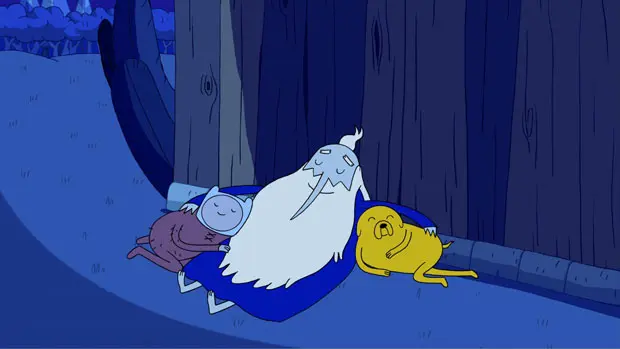 The following is a complete listing of all special features for The Complete Season 1 and Season 2 sets, respectively.
Adventure Time: The Complete Season 1
Four Audio Commentaries
Featurettes (HD, 23 min)
Animatics (SD, 49 min)
Video Extras (HD, 6 min)
Adventure Time: The Complete Season 2
Twenty-six Audio Commentaries
The Crew of Adventure Time Interview (HD, 6 min)
There is truly no other way for me to describe these two Adventure Time releases other than as must owns. With 26 episodes of Jake and Finn's brand of fantasy and fun per release, these releases will be fun for every member of the family. Add to that an impressive amount of special features in each releases own way and you've got two of the absolute best Blu-ray releases this reviewer has come across in quite some time. Highly recommended!
Shop for Adventure Time Complete Season 1 and Season 2 on Blu-ray for a discounted price at Amazon.com (June 4, 2013 release date).