Robert Zemeckis enlisted Jim Carrey to play half the characters in A Christmas Carol, the revered director's third foray into mo-cap filmmaking that has been held back from a home video debut for nearly a year. This intentional delay has allowed Disney to wisely release the film on Blu-ray and DVD during the holiday season. It also opened the door for Disney to take advantage of Blu-ray 3D's entry into the marketplace and offer a film designed from the ground up with 3D in mind to the early adopters of home entertainment's still new technology.
As a story, A Christmas Carol is old hat for most anyone whom is already dabbling in Blu-ray 3D. Zemeckis' take on the Charles Dickens novel retells the timeless tale with a visual flair and panache unachievable with live-action photography. That's always been Zemeckis' motivation from his first mo-cap experiment with A Polar Express; to achieve the previously unachievable without dispensing with the artistry of the human performance.
Rather than sugarcoat a story designed to stir fear on a path of self-discovery and redemption, Zemeckis sticks to his guns and source material in delivering this Christmas tale without pandering to young audiences. There is no shortage of disturbing imagery or seemingly near death experiences in Scrooge's journey through is often maligned life.
Zemeckis has come a long way since A Polar Express and Beowulf with characters one step closer to lifelike and a world almost real enough to reach out and touch. Where Zemeckis still struggles with the technology is to create digital characters viewers feel an absolute bond with, an achievement a studio like Pixar mastered with Up. Carrey successfully almost disappears into the roles of all three ghosts, Scrooge and a few others; likewise Gary Oldman, Bob Hoskins, Colin Firth, Cary Elwes and Robin Wright Penn into their roles. Yet there's still an "x factor" missing in the animation style that disrupts the illusion of becoming invested in their fates which ultimately affects becoming fully emotionally invested in the film.
3D Presentation
A Christmas Carol's design with three dimensional theatrical viewing in mind is a perfect mate for Blu-ray 3D. The opening sequence is a portal into and through Scrooge's old Victorian town, a sweeping shot that benefits greatly from the added dimensionality of 3D as the snow and buildings layer on top of one another throughout the camera's wild ride. Zemeckis, no stranger to pushing the limits of mo-cap as a means to justify its necessity, makes multiple returns to this type of sequence including a harrowing chase involving Scrooge and the Ghost of Christmas Future and a "god's" view of the world through a transparent floor from the Ghost of Christmas Present. All of these are viscerally fascinating to watch and undeniably benefit from 3D.
The subtlety of falling snow is my favorite 3D effect in A Christmas Carol but there are others representing varying degrees of "in your face" moments brought about by Scrooge's elongated features poking at the viewer or other staged acts. A few more would have been appreciated if for no other reason to showcase 3D a bit more. In its current state there's enough 3D trickery in play to satisfy.
Most impressive about this 3D presentation is that the effect is devoid of crosstalk or any other transfer issues. The picture quality, colors and contrast is exceptional throughout, even when the Ghost of Christmas Past and his flaming visage dare to test black levels when burning in dimly lit rooms. Crotchety old Scrooge himself would have signed off on this pleasing visual depiction of his story.
Disney's 5.1 DTS-HD Master Audio soundtrack aligns tightly with the disturbing and aggressively loud imagery. You expect the clanging of Jacob Marley's chains to unsettle your nerves but there's so much more. The aforementioned sweeping sequences lend themselves perfectly to rear surrounds as the sounds of flight fill the room. The Ghost of Christmas Present is anything but reserved with a laugh that echoes without bounds. By the time the Ghost of Christmas Future gives chase to Scrooge with a carriage drawn by demonic horses you'll be reaching to turn down the volume; in a good way, of course.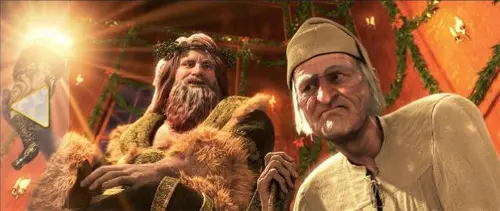 Beyond the Feature
A Christmas Carol on Blu-ray 3D boots up with an option to view the main menu and film in 2D or, the more appropriate and visually interesting option, 3D. A Disney Blu-ray 3D Sizzle Reel/Promo plays just past this selection and promotes future Blu-ray 3D titles including a standalone release of Alice in Wonderland and next year's Tron Legacy. This same spot is attached to Disney's Toy Story 3 Blu-ray release but here the selling points of 3D are actually offered in 3D.
Being my first Blu-ray 3D title, I quickly discovered that bonus features are more compelling to sit through when offered in 3D.
Mr. Scrooge's Wild Ride (2:33, HD 3D), the lone film-specific bonus feature on this disc, is short in minutes but long in use of the third dimension. Everything from the storyboards presented to interview snippets with Carrey and Zemeckis are in 3D. The only downside to this mini making-of featurette is there isn't enough of it. I'm not so certain the same would have been said if it were presented in 2D, though that stance may change if or when the 3D novelty wears off.
The remaining A Christmas Carol bonus features are on the Blu-ray Disc version of the film. I'll stop back and add thoughts on those after that disc is received and critiqued.
Disney knew what they were doing by choosing A Christmas Carol as their marquee Blu-ray 3D entry for this holiday season. The 3D presentation is without fault, on top of a transfer that unsurprisingly takes advantage of the film's all-digital creation. James Cameron's Avatar this film in 3D is not. But given the slim Blu-ray 3D pickings this holiday season, A Christmas Carol is a must-own title for early Blu-ray 3D adopters to celebrate the holidays with.
– Dan Bradley
Shop for A Christmas Carol on Blu-ray 3D (November 16, 2010 release date) for a discounted price at Amazon.com.