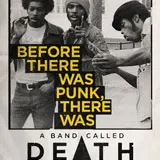 Was it The Ramones? Was it The Sex Pistols? While much of Punk's early history has been well documented since its inception, the debate as to where it started continues to rage on to this day. The truth is: it was neither. There was a band that, until recent years, hardly anyone ever even knew existed. There was a power trio of brothers from Detroit playing music that was completely ahead of its time in sound and ideas. There was A Band Called Death and they have one hell of a story.
A Band Called Death, directed by first timers Jeff Howlett and Mark Covino, is a documentary chronicling the lives of the three brothers that made up the band Death; David, Dannis and Bobby Hackney. Over the course of the film three generations of the Hackney family are discussed, making this not only a rousing documentary on a band lost to time and circumstance, but also manages to be a tale of familial love, loss and the power of belief.
The film establishes early on that the Hackney's were a music loving family. Growing up in 1960s Detroit in the prime of the Motown era proved to be pivotal for the boys, not so much in influence but in inspiration. It would be seeing a 1964 performance by the Beatles that would lead the brothers Hackney to their instruments. Dannis would take to the drums, Bobby would play bass and sing and David would take on the guitar and be the brains and spirit behind it all. Initially starting a group blending rock and funk sensibilities, the Hackneys would soon be equally influenced by Alice Cooper and The Who. This melting pot of inspirations led to what is now known as Death.
From the start, the band was met with adversity from every direction. First and foremost, having the band named Death didn't sit well with anyone outside of the band, who were hoping to put a positive spin on the idea and concept of death. On top of that, they were three African-American guys playing what many of their peers saw as "white boy music," which alienated them from much of their localized 70's Detroit music scene. What would follow would be nearly a decade of fighting for the band and what they believed to be important, including their creative freedom.
Sadly this would lead David and his brothers to eventually close the door on Death and to go their own ways. The band ended around 1979 and it wouldn't be until 2008, eight years after David's passing due to lung cancer, that Death would finally begin to get the recognition that they sought, but that their creativity definitely deserved.
Howlett and Covino do an excellent job of bringing this unbelievable story to light. They primarily focus on Bobby and Dannis recalling their history and taking the cameras around the various spots that were pivotal during the Death years. The remaining brothers, including the eldest brother Earl who had no musical involvement, all speak with such a love and appreciation for their parents and each other. They all also share a special reverence for their brother David. They have no qualms pointing to him as the creative heart and soul of the band. It's his convictions that led to the creation and eventual demise of Death, and it's his passing and everlasting memory that leads to some of the films more heartbreaking and joyous moments. The family angle comes full circle as Bobby's three sons, all now musicians themselves, inadvertently discover their father's and uncle's old recordings and not only find a new appreciation for their elders, but also a kinship of sorts that leads to them carrying on the memory of Death.
If it hasn't quite come across in my words so far, let me assure you that I absolutely love this film and the band. What A Band Called Death did for me was take a band that I had already come to love and respect and shared this honest portrait of three guys believing in themselves and the ties that bind, no matter the cost. It is equal parts humorous and tear-jerking, but remains enlightening and uplifting throughout. There's a moment where Bobby sees his three sons in their own band playing he and his brother's old songs and the emotion washes over him in a way that hits on every conceivable level and has honestly made me a bit misty eyed again just thinking about it. These are the kind of guys that you root for every step of the way. It may have come nearly forty years after the fact, but it is truly incredible to see Death now getting the attention and appreciation they deserved from the start.
There was and still is A Band Called Death. More importantly, there was and still is a family called Hackney. Their love, three generations strong, is the true star of the show.
A Band Called Death was released on VOD, iTunes and DrafthouseFilms.com on May 24, 2013, with a theatrical release set for June 28, 2013.