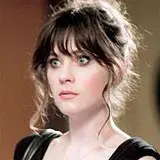 Zooey Deschanel and her roommates have reason to celebrate today as Fox has picked up her new sitcom vehicle New Girl for an additional 11 episodes. In total, the first season of New Girl will run 24 episodes.
New Girl premiered a little over a week ago to a strong 10.3 million total viewers and a 4.8 rating in the 18-49 demo. It beat NBC's Biggest Loser and helped counter the damage done by CBS' NCIS over Fox's Glee in the previous hour. In fact, New Girl is pulling more total viewers than Glee thus far this season.
These strong New Girl pilot ratings came after the show had already premiered on iTunes before airing on television for the first time. Rather than a drop in viewers due to those already interested in seeing it not bothering with seeing it twice, word-of-mouth helped catapult the premiere's ratings.
For its second week, New Girl held strong with 9.2 million total viewers and a 4.4 million in the 18-49 demo. Later in the day today, Nielsen upped the 18-49 rating to a 4.5. With over 90% of the premiere's audience returning, Fox felt comfortable in making the first new freshman show to receive an extended pick-up order this season from any network.
For Zooey Deschanel, her cast mates and the creative team, the early pick-up gives them plenty of time to plan out what should hopefully be continued success without having to worry that the show could be abruptly canceled.