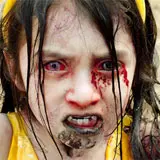 The probability of Sony's Zombieland with Woody Harrelson, Jesse Eisenberg, Emma Stone and Abigail Breslin becoming a breakout hit surged over this past week into an explosive opening to the tune of $25 million from Friday through Sunday per early estimates, easily enough to top the weekend box office results.
Sony's Cloudy with a Chance of Meatballs also fared well, snagging the number two position with $16.7 million or a mere 33% drop from its second week. After just three weeks, Meatballs is already over $82 million and a sure bet to cross the $100 million mark domestically.
The Toy Story and Toy Story 2 3D double feature took third with $12.5 million while The Invention of Lying managed $7.4 million. Michael Moore's Capitalism: A Love Story in limited release matched Whip It in wide release with $4.9 million a piece.
The complete weekend box office results for October 2-4 are as follows:
1. Zombieland: $25m
2. Cloudy With a Chance of Meatballs: $16.7m
3. Toy Story Double Feature: $12.5m
4. The Invention of Lying: $7.4m
5. Surrogates: $7.3m
6. Capitalism: A Love Story: $4.9
7. Whip It: $4.9m
8. Fame (2009): $4.8m
9. The Informant!: $3.8m
10. Love Happens: $2.8m
Next weekend has Couples Retreat as the only big opening who will aim to topple Zombieland. You can play along each week and try to predict the weekend box office for prizes in our Weekend Box Office Prophet game.