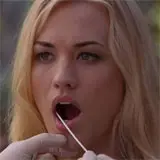 Yvonne Strahovski is returning to Showtime's Dexter for its eighth and presumably final season.
It was widely assumed that we had not seen the last of Strahovski's Hannah McKay after she escaped from prison and left her calling card on Dexter's doorstep before vanishing to who-knows-where. If McKay were being written off the show last season, it would have made more sense for her to remain incarcerated.
Strahovski is expected to appear in a multi-episode arc that should hopefully bring closure to the bizarre relationship between two serial killers. With Deb and Dexter closer than ever after the events of the Season 7 finale, the return of Hannah could create some serious friction between the siblings.
In addition to the Strahovski casting news, find below the latest Dexter: Season 8 promo that literally paints its star in blood. With the Season 8 premiere set for June 30, it shouldn't be long before the first official footage is released and we get an idea of what Dexter will be up against as the "end game" nears.
Source: EW