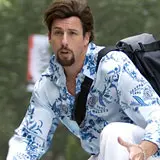 Online retailer HDAddicts.com is reporting Sony's You Don't Mess with the Zohan starring Adam Sandler will be available October 7 on Blu-ray Disc, most likely day-and-date with DVD.
Zohan joins a growing family of October 7 releases including The Amityville Horror, Carrie and Young Frankenstein, all being planned per DVDEmpire.com, as well as The Omen Collection and Warner's Otis and Rest Stop films.
Due to the early nature of this news and lack of an official announcement from the studio we don't have any technical specs or extra feature news to share. Rest assured all will be revealed in the days and weeks ahead.
You Don't Mess with the Zohan will carry an SRP of $38.96. Keep checking back for updates including cover art and full specs.