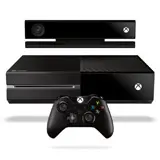 Last night Amazon's Games team took to Twiiter and announced that Xbox One Day One Edition would be back in stock and readily available to pre-order online ahead of the console's upcoming November 22 release date. If you're planning to buy Xbox One from Amazon, you will need to be ready with quick fingers and a stable Internet connection early in the morning.
The Xbox One Day One Edition pre-orders will commence at Amazon at precisely 8am EST / 5am PST. We don't know how many Xbox One consoles Amazon has been allotted for this last minute pre-order, nor do we know how long they will last. Considering the Day One Edition of Xbox One has been sold out for months I would expect that tomorrow's sale will be shortlived.
Click here to buy Xbox One Day One Edition at Amazon.com, if it is in stock, as it won't last long!
The Xbox One Day One Edition console comes with an exclusive achievement, exclusive Day One Edition branded controller, and exclusive premium black packaging. That's in addition to an HDMI cable, headset and Kinect 2.0 sensor bar included with every Xbox One console regardless of whether it is a Day One Edition or not.
Xbox One Day One Edition will cost $499.99 plus applicable sales tax. If you're an Amazon.com Prime member then it will be shipped on Thursday and be delivered on Friday for launch.
In addition to having the Xbox One Day One Edition in stock and available to pre-order tomorrow morning, Amazon also still has all three of the Day One Edition games available to purchase. These include Dead Rising 3, Forza Motorsport 5 and Ryse: Son of Rome.
Good luck to those of you out there who take a shot at an Xbox One Day One Edition pre-order at Amazon this morning. It will be very interesting to see how long it stays in stock, especially considering it is a straight up console sale with no frills and not a forced bundle with say a Kindle HDX, as Amazon offered packaged with a PS4 the night it released. Even that sold out in less than an hour.