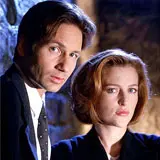 The arrival of X-Files: I Want to Believe in theaters this summer guarantees a bow on Blu-ray Disc later this year. But what about the fate of the first X-Files film appearing on Blu-ray?
The truth is out there, and "there" happens to be a blog for the film's producer, Frank Spotnitz. He's confirmed both X-Files films are being prepped for a Blu-ray and will be filled to the brim with extras.
Per Frank's post, the releases will include video and audio commentaries, behind-the-scenes footage, bloopers, trailers, a new documentary, Chris Carter photos and other surprises.
The television show, however, isn't currently in the cards for a Blu-ray treatment. Per Frank, "Actually, there are no plans as yet to release the television series on Blu-Ray, just the theatrical films." Sometimes the truth isn't what we want to hear.
We'll have much more on the X-Files films' Blu-ray debut in the months ahead.
In the meantime, feel free to enter our daily entry X-Files Revelations DVD giveaway to hold you over until I Want to Believe arrives in theaters later this month.