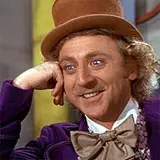 Another former HD DVD high definition exclusive can be crossed off the list with official word from Warner Home Video that the original Willy Wonka & The Chocolate Factory is coming to Blu-ray Disc on October 20.
The Gene Wilder fantastical classic will be packaged in Warner's digi-book case that includes a 38-page book with insider information and photos.
The feature film will be presented in 1.85:1 1080p video and 5.1 Dolby TrueHD lossless audio on a single disc.
No new bonus features have been produced but what have been ported over from the previous HD DVD release are solid in their own respect. Sorry, no chance at a golden ticket, but you will find the following:
Delectable Documentary Pure Imagination: The Story of Willy Wonka & the Chocolate Factory
Theatrical Trailer
Mouth-Watering Commentary with the Wonka Kids
4 Scrumptious Sing-Along Songs
Tasty Vintage Featurette
Warner has set a $34.99 retail price and Amazon is already accepting pre-orders at $24.49. You can secure your Willy Wonka Blu-ray by clicking here.