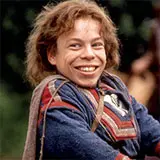 After the original Star Wars trilogy wrapped up, George Lucas wrote and produced the fantasy adventure Willow, and tapped director Ron Howard to help bring his vision to life. Lucas hired Warwick Davis, Wicket from Return of the Jedi, to play one of the film's heroes alongside Val Kilmer without wearing a mask or extensive make-up, a first for the then young actor.
Next year marks the 25th anniversary of Willow and with Peter Jackson's The Hobbit films in full swing, it's the perfect time to resurrect the film on Blu-ray for the first time. And that's exactly what is happening.
Lucasfilm and Fox have announced that a Blu-ray and DVD combo pack of Willow is coming to stores on March 12, 2013, roughly 10 years since the previous DVD release. The film has been remastered in 1080p video and 5.1 DTS-HD Master Audio.
Davis shot a personal video diary during the Willow shoot that will be included on the Blu-ray. Full bonus features include:
NEW Willow: Deleted Scenes with Ron Howard
NEW Willow: An Unlikely Hero Personal Video Diary of Warwick Davis
The Making of an Adventure with an all new introduction from Ron Howard
From Morf to Morphing with an all new introduction from Dennis Muren
Matte Paintings
Easter Egg
Check out the Willow Blu-ray cover art below that will look right at home next to The Dark Crystal, The Goonies, and other 80s genre flicks.