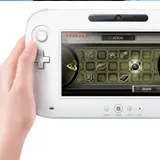 Everyone wants to know what price Nintendo will apply to their new Wii U console, what it will come packaged with (Nintendo Land, perhaps?), what the launch games are, and what day it will be available to purchase.
Today Nintendo sent out press invites to a big event in New York City that will be held Thursday, September 13. Per Kotaku who received one, Nintendo of America president Reggie Fils-Aime will be in attendance, and he will be discussing "how the Wii U will change the future of gaming and entertainment."
We have long thought that Nintendo would announce all the Wii U specifics in September and that that console would make its way into stores in early-to-mid November. Nintendo wants Wii U and as many of its launch window games available as possibly for the big Black Friday, Cyber Monday, and other holiday-specific shopping days.
Kotaku did a little digging and noted that the last big Nintendo New York City press event with Reggie in attendance was in January 2011 to announce the 3DS launch date and launch titles. 3DS was available to purchase two months later.
If you apply that same logic to the Wii U timetable then expect Wii U to be available to purchase in November.
Source: Kotaku