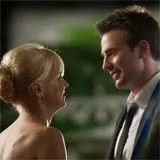 Chris Evans (Captain America: The First Avenger) and Anna Faris team up in the 2011 romantic comedy What's Your Number?, coming to Blu-ray and DVD on January 10, 2012 in a new unrated extended cut.
What's Your Number? arrived at the box office in North America with a whimper in late September, pulling in only $5.4 million its opening weekend. By the end of its theatrical run, the film earned a hair over $14 million, short of its $20 million production budget.
The Blu-ray edition of What's Your Number? will include the DVD version and be presented in 1080p video and 5.1 DTS-HD Master Audio. Bonus features are naturally light given the film's lack of box office success. They include an extended flashback dates and deleted scenes, as well as a gag reel.
Click here to pre-order What's Your Number? on Blu-ray for a discounted price at Amazon.com.