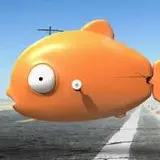 Sometimes when a big mystery box shows up at TheHDRoom headquarters it's fun to speculate what could be inside before cracking it open. Other times, as with the arrival of Rango on Blu-ray, a studio wants the postal delivery man and anyone else who comes in contact with the box to know what's inside.
Yesterday a big orange box arrived from Paramount. At first glance before picking it up I was initially stumped. Then, upon flipping it over, I saw in big bold letters "Rango" and the orange suddenly made sense.
Inside the box was our review copy of Rango on Blu-ray that stars Johnny Depp. That was expected. Filling out the box was a bag of goldfish, a water gun and a suitcase name tag. If you've seen the film then all of those items will make perfect sense.
I took the Rango Blu-ray for a quick test drive and am happy to report that it looks and sounds as excellent as you'd expect it to. Really, it's high definition perfection and fans of the animated fantasy western won't be disappointed.
Rango rides into stores on July 15. You can currently click here to pre-order the Rango Blu-ray and DVD combo pack for a mere $24.99 at Amazon.com, a cool 44% off the $44.99 list price.