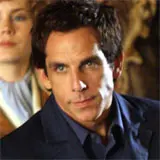 Up until this past weekend, every major summer movie opening had exceeded ticket sales expectations during its opening weekend in theaters. The return of John Connor put an immediate halt to that trend.
For the weekend spanning May 22-24, Night at the Museum: Battle of the Smithsonian ran away with the box office crown to the tune of $53.3 million while Terminator Salvation looked up from the second spot with its $43.01 million.
Add in Monday's Memorial Day take and Night at the Museum 2 rolled in the dough with $70 million, a far cry from Terminator's $53.8 million over the same stretch. Toss in Thursday's dollars for Terminator and the cume stands at $67.2 million, still under Ben Stiller and his army of animated historical figures.
Star Trek continues to perform strong at the box office, raising its total domestic gross to $191 million and climbing after the Memorial Day weekend. Angels & Demons is dropping more sharply and will need those international dollars to be considered a success.
The complete weekend box office results for May 22-24 are as follows:
1. Night at the Museum: Battle of the Smithsonian: $53.5m
2. Terminator Salvation: $43.01m
3. Star Trek: $22.783m
4. Angels & Demons: $21.8m
5. Dance Flick: $10.734m
6. X-Men Origins: Wolverine: $7.95m
7. Ghosts of Girlfriends Past: $3.81m
8. Obsessed: $1.975m
9. Monsters vs Aliens: $1.417m
10. 17 Again: $1.01m
Next weekend will see Pixar's Up square off against Sam Raimi's Drag Me to Hell. The former should win easily with 50% more screens and, like Museum, the family draw. Besides, it's Pixar. They can do no wrong.