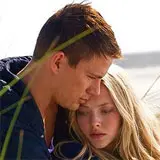 Well, it was bound to happen someday.
After a near two-month stay at the top of the North American Box Office, the phenomenon that is James Cameron's Avatar is no longer the number one film in the country. This weekend, the chick flick Dear John arrived and wrote up a huge $32.4 million worth of love letters in the form of weekend ticket sales. If the projected sales hold, then John will have set a new record for the otherwise dormant Super Bowl weekend when viewers turn their eyeballs to the big game.
Released by Sony's Screen Gems division, the big screen adaptation of Nicholas Sparks' novel exceeded all expectations, overcoming not only the Super Bowl weekend jinx, but also a major mid-Atlantic blizzard that closed many theaters in the Mid-Atlantic States that got hit. Even though the film's target demographic, teenage girls, won't be glued to their sets watching the Colts battle the Saints, John's Sunday sales will no doubt see a sizeable dip from the day before. Still, I'm sure Sony isn't too worried about that erosion. After all, next weekend is Valentine's Day, a holiday that seems tailor-made for a film like this.
As for Cameron's Big Blue epic, don't start writing up its box office obituary just yet. While it may have abdicated the weekend box office throne, it is hardly down and out. Once again, Avatar hauled in another truckload of cash for distributor 20th Century Fox. Off only a scant 24 percent from last weekend's $31.2 million haul, Avatar's estimated take of $23.6 million now gives the Best Picture Oscar contender a new domestic take of $630 million. Globally, the current take is hovering around the $2.12 billion dollar mark.
Arriving with a rather loud thud was Lionsgate's new action comedy From Paris with Love with $8.1 million. There are a number of factors that could be attributed to film's lackluster opening: its genre-shifting ad campaign, toxic reviews, an overcrowded action market with better choices for males or perhaps the simple fact that John Travolta is no longer a big box office draw. Whatever the reason, the film is dead on arrival, marking the second 2010 dud for Lionsgate following the Jackie Chan family comedy The Spy Next Door (remember that one, folks? I didn't think so.)
Fading fast in fourth place was Mel Gibson's revenge drama Edge of Darkness, taking in a bloodless $7 million, down 59% from its $17.1 million opening for a ten-day total of $29.2 million. While the big game and the blizzard may have sapped the Warner film a bit more than a normal second weekend might have, it is pretty clear that audiences have not been overly enthralled by Mel's big screen return. Depending on whether the film stabilizes next weekend or not, Gibbo's comeback film might wind up on the edge of a small $40 million domestic take.
Once again, the Dwayne Johnson family comedy The Tooth Fairy held up better than expected with a $6.5 million gross and a new estimated total of $37 million to date. Weekend matinees, and a lack of direct competition, have given the comedy surprising staying power. However, next week should prove different as the heavily-hyped Percy Jackson & the Olympians: The Lightning Thief debuts.
In sixth place was the Kristen Bell comedy When in Rome, which dropped close to 60% from its opening weekend with a $5.6 million gross and a new estimated total of $21 million to date. Seventh spot went to The Book of Eli with a $4.8 million weekend estimated take and an estimated total of $82.1 million.
In eighth spot, its first weekend of wide release, was the Jeff Bridges drama Crazy Heart with an estimated $3.6 million from 819 screens. Fox Searchlight has been successfully expanding the film since mid-December, building on the multitude of awards that Bridges has been collecting in the weeks leading up to last week's Oscar announcements. Since this film is one of the least-seen of this year's Oscar nominees, Heart stands to gain the most ticket sale-wise (The Hurt Locker is currently on home video and is doing solid business there). To date, Crazy Heart has hauled in $11.4 million and should pull at least double that amount, if not more, over the next several weeks.
Rounding out the top ten are two holdovers enjoying what may be their last weekend in the group. Legion fell another 52 percent to bring in $3.4 million and a new gross to date of $34.6 million, while Sherlock Holmes finally broke the $200 million barrier with its $2.6 million weekend take and a new cume of $201 million.
In addition to Percy Jackson, next weekend also sees the arrival of the Universal horror film The Wolfman and the ensemble romantic comedy Valentine's Day. It should be a big weekend all around, and you can predict what each of these films will make for a chance at prizes in our next round of the weekly Weekend Box Office Prophet game which launches this Tuesday.
– Shawn Fitzgerald