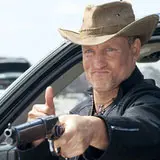 I have never been a believer in the best advice is your own advice. Based on my performance in last weekend's Weekend Box Office Prophet game, now might be a good time to rethink that philosophy.
While writing the blurb for Zombieland to coincide with the Prophet prediction I wrote, "Like Meatballs' cornering the kids market last weekend, Zombieland is the only film targeted towards males opening this upcoming weekend." Had I followed this train of thought my prediction for Zombieland would have been north of $20 million and not the pathetic $10.6 million ultimately settled upon. Thanks to missing Zombieland by nearly $15 million, the Prophet successfully completed his first 20th or worst place finish and hangs his head in shame.
The full results for this past weekend's round and the cumulative leaderboard can be viewed here.
You all picked Zombieland to grab $16.7 million and, with the exception of The Invention of Lying, outperformed the Prophet across the board. For your efforts, a prize will be awarded to Aidenbrack for following up a first-place finish with another top ten performance. Hats off also to WalkingDisaster for another extremely strong showing and HDAddicts for nabbing second place and shooting up the cumulative leaderboard.
Weekly participation has been hovering around the 50 mark since the game kicked off. To help boost participation here's what I am going to propose: if we reach 100 players in any given week, I will aggressively search for a sponsor to provide weekly prizing to the top performer or performers. If you know anyone who might be interested in playing, send them on over!.
The next round of the Weekend Box Office Prophet game will kick off Tuesday, October 6, so be on the lookout for it.