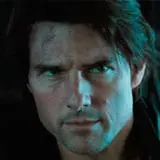 2011 closed on a positive note at the North American box office as hit sequels Mission: Impossible – Ghost Protocol, Sherlock Holmes: A Game of Shadows and Alvin and the Chipmunks: Chipwrecked all repeated their Christmas weekend rankings with improved numbers. The top-ten box office surged a strong 32% from last weekend's totals, and was up 6% over the top ten from last year when Little Fockers stayed on top for a second weekend.
Mission: Impossible – Ghost Protocol continued its winning ways on 3,455 screens in its third round to earn an estimated $31.25 million, an increase of six percent over last weekend's haul of $29.5 million. After 17 days, the Brad Bird sequel starring Tom Cruise has earned a solid $134.1 million to date in domestic sales and another $190 million in international sales. The film has passed the 2006 series installment and should eclipse that film's $397 million final haul within the next two weeks. It should also be able to pass the 1996 original's $181 million gross by the end of January.
Sherlock Holmes and Watson also took advantage of the New Year's holiday weekend and saw its box office take increase by nine percent to an estimated $22 million on 3,703 screens, bringing its three-week take up to $132.1 million. A Game of Shadows still trails the 2009 original by roughly 20%. If the sequel keeps up this pace, the movie might finish its run around the $165 million mark.
Fox's kiddie sequel Alvin and the Chipmunks: Chipwrecked jumped up 45% over last weekend's haul to bring in $18.25 million on 3,724 screens. After three weekends Alvin, Simon and Theodore have earned $94.6 million. While the latest chipmunk adventure is pulling in solid midweek numbers thanks to kids being on holiday break, the film is trailing considerably behind the previous two entries. Chipwrecked should finish with $120-130 million in the bank, which would roughly be 30-40% less than the final domestic gross of the first two films. Overseas, the film has earned $74 million thus far.
After debuting last Sunday, the Steven Spielberg drama War Horse made its presence known in its first full weekend of release. With a weekend haul of $17 million on 2,547 screens, the possible Oscar contender has earned a solid $42 million in its first full week of release. If word-of-mouth is strong and the Oscar nominations fall into place, the Disney/Dreamworks release should have no problem becoming the latest $100 million winner for Spielberg.
After opening to okay numbers last weekend, Sony and David Fincher's $100 million remake of The Girl With the Dragon Tattoo uncovered a solid second weekend. Jumping 28% in sales on 2,914 screens, the mystery flick earned $16.3 million to bring its domestic total to the $57 million mark. As adults tend not to rush out to movies on opening weekends, Girl should be able to withstand the post-holiday season drops better than other films. That may help push the film past the $100 million mark by the end of its run.
Fox's family drama We Bought A Zoo was another feature that has gained considerable steam since opening on Christmas Day. In its first full weekend, the movie earned an estimated $14.3 million on 3,163 screens. To date, the Cameron Crowe and Matt Damon film has earned $41.7 million.
War Horse isn't the only Steven Spielberg movie making money this holiday season. His 3D animated adventure The Adventures of TinTin is also in release and finding family audiences during the holiday break. Currently on 3,081 screens, TinTin rose 24% in its second weekend to earn an estimated $12.3 million. The weekend haul brings TinTin's domestic total to $47.8 million and the film should finish with roughly $75-80 million. While its domestic total will be considered a bit of a disappointment, the international haul of $239 million more than compensates for it. The next TinTin adventure, directed by Peter Jackson, is currently in post-production.
Rounding out the top ten were New Line's New Year's Eve with $6.7 million ($47 million to date), Summit's The Darkest Hour with $4.3 million ($13 million to date) and Fox Searchlight's The Descendants with $3.675 million ($40 million to date).
Next weekend will see the first wide release of 2012, Paramount's The Devil Inside. Focus Features' Tinker Tailor Soldier Spy, which is currently enjoying a great run in limited release, will continue its platform release next Friday.
Happy New Year, everyone!
– Shawn Fitzgerald