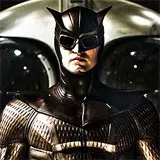 Per The Hollywood Reporter, Warner Home Video is set to announce a Blu-ray industry first which will allow owners of the upcoming Watchmen: Director's Cut disc to update their Facebook status while viewing the film via BD-Live.
Warner Home Video Vice President of Worldwide High Definition Kris Brown said of the new technology, "We want to do this partnership with Facebook because research has shown that consumers want to have social networking capabilities with BD-Live. Previously, those possibilities have been limited to your friends within BD-Live and the general BD-Live community."
I am not sure who Warner used for this "research" but I have a hard time imagining many people want to be messing with Facebook (or Twitter, for that matter) status updates while watching a film. If they did, they could just as easily whip out their cell phone and do it there.
Watchmen on Blu-ray will also debut "Maximum Movie Mode" which will allow split-screen viewing between the film and director Zach Snyder's video commentary.
Warner has placed a $35.99 on the Blu-ray Disc version of Watchmen which will be released either July 21 or 28 (most likely the latter). A three-disc edition of Watchmen on Blu-ray is still rumored for release during the holidays.