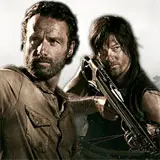 Update 2: Watch The Walking Dead: Season 4 Comic-Con trailer below!
Update: AMC will premiere the trailer online at 5/4c at AMC.com. I will update with a direct link as soon as it is published.
Today is a huge day for fans of AMC's The Walking Dead. San Diego Comic-Con attendees willing to brave the horrendously long Hall H line will get to sit in on AMC's panel to promote Season 4 this afternoon beginning at 1:35pm PST and be rewarded with a first-look at the Season 4 trailer.
It has been widely speculated by many — including myself — that AMC would release The Walking Dead: Season 4 trailer online before today is out. I can now confirm that AMC has formally announced the trailer, being called an "extended" trailer, will be available online after the panel concludes.
I will be stopping back to update this post with a direct link to The Walking Dead: Season 4 extended trailer as soon as AMC publishes it online.
Get excited, folks. The big Season 4 reveal is now officially in final countdown mode.