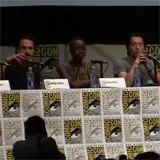 AMC's The Walking Dead provided a big presence at Comic-Con this past weekend as the show has made a tradition over the past couple years. Stars from the hit series showed up in force to promote the upcoming season, bringing with them a new The Walking Dead: Season 4 trailer running nearly five minutes in length.
The duration of the panel was an hour long so there's nearly 50 minutes of panel those in attendance were able to watch live. That panel was recorded and put online for the rest of us to experience as well. You can watch it below.
Moderating The Walking Dead panel at Comic-Con was, of course, Chris Hardwick. Castmembers in attendance include Andrew Lincoln, Norman Reedus, Chad Coleman, Lauren Cohen, Steven Yeung, Danai Gurira, Scott Wilson, and David Morrissey. Yes, Morrissey got booed as an actor for being the lone "bad guy" (the Governor) on the panel. Ironically his character is nowhere to be seen in the new trailer.
Fan favorites Norman Reedus, Andrew Lincoln, Steven Yeung and Lauren Cohen took the bulk of the questions from fans. Poor Scott Wilson and Chad Coleman are virtually ignored. That might change next year as both of their characters look to be heavily involved in the upcoming season.
Noticeably absent from the panel is Chandler Riggs who plays Carl Grimes on the show. This is a bit surprising given Riggs has shown up at conventions before and would be on summer break right now.
AMC has announced a Sunday, October 13 premiere date for Season 4 of The Walking Dead, kicking off 16 all-new episodes of zombie apocalypse drama.