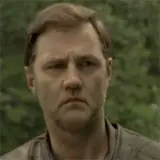 AMC was in a giving mood today and has released The Walking Dead: Season 3 Comic-Con trailer online that debuted just a few hours prior to a packed panel at San Diego Comic-Con.
Where to begin? It seems like some time will pass between the Season 2 finale and where Season 3 will pick up. Rick (Andrew Lincoln) and Hershel (Scott Wilson) are both sporting some thick scruffy beards, and Carl (Chandler Riggs) looks as if he has aged.
Michonne (Danai Gurira) and Andrea (Laurie Holden) look like they will be captured by The Governor's (David Morrissey) men and taken back to the fortified down of Woodbury. Meanwhile Rick and his group will fight hand-to-hand and take over the prison hinted at in the Season 2 finale, permanently evicting every zombie wandering on its grounds.
With the prison secured, the setup is in place for The Governor to learn from Andrea that her group is much larger. When the Governor realizes Rick is running the prison, he wants to "take back what's his." Rick just wants his people to survive and under no circumstances will cough up the prison he and his people fought so valiantly to secure. He even goes as far as to threaten The Governor and tell him that if he comes near the prison again, he will be killed.
The stage is set in The Walking Dead: Season 3 for Rick and The Governor to square off in what should be a thrilling battle of wits, endurance and pure will. And plenty of zombies, of course.
Let's not forget about good old Merle (Michael Rooker) who caps off the awesome trailer by offering a hug for someone from Rick's group that he has laid out on the ground. You just knew Merle would find a way to attached a weapon to his amputated hand, and sure enough he did.
Showrunner Glen Mazzara revealed during The Walking Dead Comic-Con panel that Season 3 will premiere on Sunday, October 14 at 9/8c, the exact day we expected it to. Now that date's official and the countdown to 16 all-new episodes of The Walking Dead is officially underway.