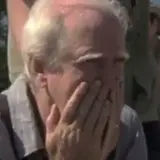 The Walking Dead returns to AMC in a little less than two weeks on Sunday, February 12. You won't have to wait until then to watch exactly how the mid-season premiere episode titled 'Nebraska' will get underway.
Spoiler alerts apply from this point forward as I'll be discussing some key plot points.
AMC has released the first three minutes from 'Nebraska' which you can watch below. It begins at the precise moment the previous ended, with Rick stepping forward and firing a single bullet into the head of zombie Sophia. As the story continues, one of Hershel's family members goes over to one of the zombies that Shane and his gang gunned down, only to have that zombie still be "alive" and try to bite them. T-Dog and Glenn then proceed to kick the zombie's head in.
Hershel is clearly devastated after what's happened to his zombie family, even if the people he knew no longer cease to exist. He demands Rick and their crew leave, while Rick and Shane clearly don't see eye-to-eye over what has just transpired.
At some point in 'Nebraska,' likely not long after the opening, Rick and Hershel will end up in a bar. It is in this bar that two new characters will enter the picture.